---
Why is there something rather than nothing? : 23 questions from great philosophers / Leszek Kolakowski ; translated by Agnieszka Kolakowska.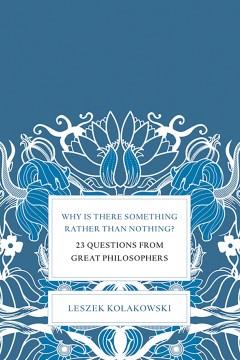 Summary:
Presents a collection of essays from various philosophers, including Socrates, Plato, St. Thomas Aquinas, Rene Descartes, and John Locke.
Record details
ISBN:

9780465004997

ISBN:

0465004997

Physical Description:

x, 222 pages ; 16 cm.

Publisher:

New York :

Basic Books,

2007.
Content descriptions
| | |
| --- | --- |
| General Note: | "First published in three volumes in Poland as O ca nas pytaja wielcy filozofowie"--T.p. verso. |
| Formatted Contents Note: | Truth and the good: why do we do evil? / Socrates -- Being and non-being: what is real? / Parmenides of Elea -- Change, conflict and harmony: how does the cosmos work? / Heraclitus of Ephesus -- The good and the just: what is the source of truth? / Plato -- Life in accordance with nature: can it make us happy? / Epictetus of Hierapolis -- Knowledge and belief: can we know anything? / Sextus Empiricus -- God and man: what is evil? / St Augustine -- God's necessity: could God not exist? / St Anselm -- Knowledge, faith and the soul: is the world good? / St Thomas Aquinas -- What there is: do ideas exist? / William of Ockham -- God, the world and our minds: how can we achieve certainty? / Rene Descartes -- The nature of God: do we have free will? / Benedict Spinoza -- God and the world: why is there something rather than nothing? / Gottfried Wilhelm Leibniz -- Faith: why should we believe? / Blaise Pascal -- Reason, freedom and equality: what did God endow us with? / John Locke -- Perception and causality: what can we know? / David Hume -- Reason, necessity and morality: how is knowledge possible? / Immanuel Kant -- History and the absolute: progress without good and evil? / Georg Wilhelm Friedrich Hegel -- World, will and sex: should we commit suicide? / Arthur Schopenhauer -- God and faith: do we need the church? / Soren Aabye Kierkegaard -- The will to power: is there good and evil? / Friedrich Nietzsche -- Consciousness and evolution: what is the human spirit? / Henri Bergson -- The foundations of certainity: what can we know and how can we know it? / Edmund Husserl. |
| Summary, etc.: | Presents a collection of essays from various philosophers, including Socrates, Plato, St. Thomas Aquinas, Rene Descartes, and John Locke. |
Search for related items by subject