---
The discovery of the Titanic / by Robert D. Ballard, with Rick Archbold ; introduction by Walter Lord ; illustrations of the Titanic by Ken Marschall.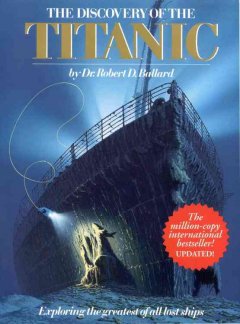 Available copies
3 of 3 copies available at Sage Library System. (Show)
1 of 1 copy available at Hood River County Library District.
Current holds
0 current holds with 3 total copies.
Summary:
This book answers many of the mysteries that have haunted the Titanic for the past 75 years, and in it the exact location of its whereabouts is revealed for the first time.athematics)
Location
Call Number / Copy Notes
Barcode
Shelving Location
Circulation Modifier
Age Hold Protection
Active/Create Date
Status
Due Date

Hood River County Library

622.19 B

(Text)
33892002188697

Adult Non-Fiction

Book
None
04/27/2005
Available
-
Record details
ISBN:

9780446513852

ISBN:

0446513857

Physical Description:

230 pages : illustrations (some color) ; 29 cm.

Publisher:

New York, N.Y. :

Warner Books,

[1987]

Copyright:

©1987.
Content descriptions
General Note:

Cover title: Titanic.

"A Warner/Madison Press book."

Includes index.

Summary, etc.:

This book answers many of the mysteries that have haunted the Titanic for the past 75 years, and in it the exact location of its whereabouts is revealed for the first time.athematics)
Search for related items by subject
LDR
01699nam a22004575u 4500
001
1105923
003
SAGE
005
20130830035952.0
008
870326s1987 nyua 001 0 eng
010

.

‡a

87008211
020

.

‡a

9780446513852
020

.

‡a

0446513857
024

.

‡a

9780446513852
040

.

‡a

DLC

‡c

DLC

‡d

DLC

‡d

UtOrBLW
043

.

‡a

ln-----
050
0
0

.

‡a

G530.T6

‡b

B49 1987
100
1

.

‡a

Ballard, Robert D.

‡0

(SAGE)1745825
245
1
4

.

‡a

The discovery of the Titanic /

‡c

by Robert D. Ballard, with Rick Archbold ; introduction by Walter Lord ; illustrations of the Titanic by Ken Marschall.
246
3

.

‡a

Titanic
264
1

.

‡a

New York, N.Y. :

‡b

Warner Books,

‡c

[1987]
264
4

.

‡c

©1987.
300

.

‡a

230 pages :

‡b

illustrations (some color) ;

‡c

29 cm.
336

.

‡a

text

‡2

rdacontent
337

.

‡a

unmediated

‡2

rdamedia
338

.

‡a

volume

‡2

rdacarrier
500

.

‡a

Cover title: Titanic.
500

.

‡a

"A Warner/Madison Press book."
500

.

‡a

Includes index.
520

.

‡a

This book answers many of the mysteries that have haunted the Titanic for the past 75 years, and in it the exact location of its whereabouts is revealed for the first time.athematics)
610
2
0

.

‡a

Titanic (Steamship)

‡0

(SAGE)1660811
650
0

.

‡a

Shipwrecks

‡z

North Atlantic Ocean

‡0

(SAGE)1521322
650
0

.

‡a

Underwater exploration

‡z

North Atlantic Ocean.
700
1

.

‡a

Archbold, Rick,

‡d

1950-

‡0

(SAGE)1794899
852

.

‡b

WC-ENT

‡b

WC-ENT

‡h

910.2 Ball

‡t

2
852

.

‡b

WC-ENT

‡b

WC-ENT

‡p

30001000074023

‡9

0

‡h

NCALL
900

.

‡a

622.19 Ball
902

.

‡a

020902
997

.

‡a

RDA ENRICHED
905

.

‡u

admin
999

.

‡e

Book

‡f

a
901

.

‡a

AUTOGENERATED-38162

‡b

System Local

‡c

1105923

‡t

biblio

‡s

oclc