---

Every good endeavor : connecting your work to God's work / Timothy Keller with katherine Leary Alsdorf.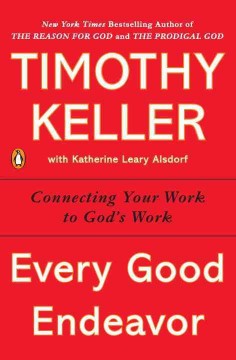 Available copies
1 of 1 copy available at Sage Library System. (Show)
1 of 1 copy available at Hood River County Library District.
Current holds
0 current holds with 1 total copy.
Summary:
Keller shows how excellence, integrity, discipline, creativity, and passion in the workplace can help others and even be considered acts of worship--not just of self-interest.
Location
Call Number / Copy Notes
Barcode
Shelving Location
Circulation Modifier
Age Hold Protection
Active/Create Date
Status
Due Date

Hood River County Library

248.88 KEL 2014

(Text)
33892100192666

Adult Non-Fiction

Book
None
08/12/2014
Available
-
Record details
ISBN:

1594632820

ISBN:

9781594632822

Physical Description:

304 pages ; 21 cm.

Edition:

1st Riverhead trade paperback ed.

Publisher:

New York :

Riverhead Books,

2014.
Content descriptions
| | |
| --- | --- |
| Formatted Contents Note: | God's plan for work. The design of work -- The dignity of work -- Work as cultivation -- Work as service -- Our problems with work. Work becomes fruitless -- Work becomes pointless -- Work becomes selfish -- Work reveals our idols -- Gospel and work. A new story for work -- A new conception of work -- A new compass for work -- New power for work -- Epilogue: Leading people to integrate faith and work. |
| Summary, etc.: | Keller shows how excellence, integrity, discipline, creativity, and passion in the workplace can help others and even be considered acts of worship--not just of self-interest. |
Search for related items by subject
LDR
01668cam a2200349Ii 4500
001
1409013
003
SAGE
005
20140808120714.0
008
131024s2014 nyu 000 0 eng d
020

.

‡a

1594632820
020

.

‡a

9781594632822
035

.

‡a

(OCoLC)861479126
040

.

‡a

YDXCP

‡b

eng

‡c

YDXCP

‡d

BTCTA

‡d

BDX

‡d

OCLCQ

‡d

ZGO

‡d

OCLCO
049

.

‡a

OR4A
100
1

.

‡a

Keller, Timothy.
245
1
0

.

‡a

Every good endeavor :

‡b

connecting your work to God's work /

‡c

Timothy Keller with katherine Leary Alsdorf.
250

.

‡a

1st Riverhead trade paperback ed.
260

.

‡a

New York :

‡b

Riverhead Books,

‡c

2014.
300

.

‡a

304 pages ;

‡c

21 cm.
336

.

‡a

text

‡b

txt

‡2

rdacontent
337

.

‡a

unmediated

‡b

n

‡2

rdamedia
338

.

‡a

volume

‡b

nc

‡2

rdacarrier
505
0

.

‡a

God's plan for work. The design of work -- The dignity of work -- Work as cultivation -- Work as service -- Our problems with work. Work becomes fruitless -- Work becomes pointless -- Work becomes selfish -- Work reveals our idols -- Gospel and work. A new story for work -- A new conception of work -- A new compass for work -- New power for work -- Epilogue: Leading people to integrate faith and work.
520

.

‡a

Keller shows how excellence, integrity, discipline, creativity, and passion in the workplace can help others and even be considered acts of worship--not just of self-interest.
650
0

.

‡a

Work

‡x

Religious aspects

‡x

Religious aspects

‡0

(SAGE)1482846
650
0

.

‡a

Work

‡x

Biblical teaching.
650
0

.

‡a

Work

‡x

History of doctrines.
650
0

.

‡a

Employees

‡x

Religious life.

‡0

(SAGE)1526391
650
0

.

‡a

Vocation

‡x

Christianity

‡0

(SAGE)1521731
994

.

‡a

C0

‡b

OR4
999

.

‡e

BOOK

‡f

a
901

.

‡a

ocn861479126

‡b

OCoLC

‡c

1409013

‡t

biblio

‡s

oclc