---
Cirque du Soleil [videorecording] : worlds away / Paramount Pictures and James Cameron present a Cirque Du Soleil Production Film in association with ReelFX/Strange Weather and Cameron/Page Group ; produced by Martin Bolduc, Andrew Adamson and Aron Warner ; written and directed by Andrew Adamson.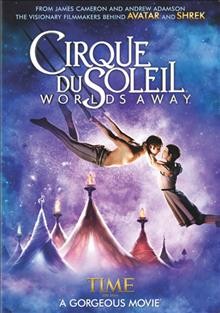 Available copies
1 of 2 copies available at Sage Library System.
0 of 1 copy available at Hood River County Library District. (Show)
Current holds
0 current holds with 2 total copies.
Summary:
Visionary filmmakers James Cameron and Andrew Adamson invite viewers on a spectacular adventure unlike anything seen before. Leap, soar, swim and dance with the legendary performers of Cirque du Soleil as they transport a young couple on a 'magical journey' worlds away and beyond imagination.
Location
Call Number / Copy Notes
Barcode
Shelving Location
Circulation Modifier
Age Hold Protection
Active/Create Date
Status
Due Date

Hood River County Library

J DVD FIC CIR

(Text)
33892100733253

Children's New DVDs

DVD
System_Only_3months
04/21/2021
Checked out
06/23/2021

Joseph Public Library

VID 791.3 CIR

(Text)
30002000210005

Videos

DVD
None
11/20/2014
Available
-
Record details
ISBN:

1415769702

ISBN:

9781415769706

ISBN:

1415770131

Physical Description:

1 videodisc (91 min.) : sd., col. ; 4 3/4 in.

Edition:

[Vanilla theatrical subtitled version].

Publisher:

Hollywood, Calif. :

Paramount,

c2013.
Content descriptions
| | |
| --- | --- |
| General Note: | Originally released as a motion picture in 2012. |
| Creation/Production Credits Note: | Edited by Sim Evan-Jones, Dirk Westervelt ; original music by Benoit Jutras, additional music by Stephen Barton. |
| Participant or Performer Note: | Erica Linz, Igor Zaripov, Lutz Halbhubner, John Clarke, Dallas Barnett. |
| Summary, etc.: | Visionary filmmakers James Cameron and Andrew Adamson invite viewers on a spectacular adventure unlike anything seen before. Leap, soar, swim and dance with the legendary performers of Cirque du Soleil as they transport a young couple on a 'magical journey' worlds away and beyond imagination. |
| Target Audience Note: | MPAA rating: PG (parental guidance suggested; some material may not be suitable for children) for some dramatic images and mild sensuality. |
| System Details Note: | DVD, widescreen presentation; 5.1 Dolby digital, described video. |
| Language Note: | English, French or Spanish dialogue; Spanish, Portuguese, French or English subtitles. |
Search for related items by subject
LDR
02896cgm a2200613Ia 4500
001
1458942
003
SAGE
005
20210412185222.0
007
vd cvaizq
008
130211s2013 cau091 vleng d
020

.

‡a

1415769702
020

.

‡a

9781415769706
020

.

‡a

1415770131
024
1

.

‡a

097361700441
024
1

.

‡a

032429126672
028
4
2

.

‡a

17004

‡b

Paramount
035

.

‡a

(OCoLC)827237404
037

.

‡b

Midwest Tape

‡n

http://www.midwesttapes.com
041
1

.

‡a

eng

‡a

fre

‡a

spa

‡j

spa

‡j

por

‡j

fre

‡j

eng

‡h

eng
099

.

‡a

791.30971 CIRQUE
245
0
0

.

‡a

Cirque du Soleil

‡h

[videorecording] :

‡b

worlds away /

‡c

Paramount Pictures and James Cameron present a Cirque Du Soleil Production Film in association with ReelFX/Strange Weather and Cameron/Page Group ; produced by Martin Bolduc, Andrew Adamson and Aron Warner ; written and directed by Andrew Adamson.
246
3
0

.

‡a

Worlds away
250

.

‡a

[Vanilla theatrical subtitled version].
260

.

‡a

Hollywood, Calif. :

‡b

Paramount,

‡c

c2013.
300

.

‡a

1 videodisc (91 min.) :

‡b

sd., col. ;

‡c

4 3/4 in.
538

.

‡a

DVD, widescreen presentation; 5.1 Dolby digital, described video.
546

.

‡a

English, French or Spanish dialogue; Spanish, Portuguese, French or English subtitles.
511
1

.

‡a

Erica Linz, Igor Zaripov, Lutz Halbhubner, John Clarke, Dallas Barnett.
500

.

‡a

Originally released as a motion picture in 2012.
508

.

‡a

Edited by Sim Evan-Jones, Dirk Westervelt ; original music by Benoit Jutras, additional music by Stephen Barton.
521
8

.

‡a

MPAA rating: PG (parental guidance suggested; some material may not be suitable for children) for some dramatic images and mild sensuality.
520

.

‡a

Visionary filmmakers James Cameron and Andrew Adamson invite viewers on a spectacular adventure unlike anything seen before. Leap, soar, swim and dance with the legendary performers of Cirque du Soleil as they transport a young couple on a 'magical journey' worlds away and beyond imagination.
650
0

.

‡a

Acrobatics

‡x

Performances.
650
0

.

‡a

Aerialists

‡v

Drama.
650
0

.

‡a

Couples

‡v

Drama.
650
0

.

‡a

Circus

‡v

Drama.
650
7

.

‡a

Acróbatas

‡v

Teatro.

‡2

bidex.
650
7

.

‡a

Circos

‡v

Teatro.

‡2

bidex.
650
7

.

‡a

Relaciones hombre-mujer

‡v

Teatro.

‡2

bidex.
655
7

.

‡a

Feature films.

‡2

lcgft

‡0

(SAGE)1429339
655
7

.

‡a

Video recordings for people with visual disabilities.

‡2

lcgft

‡0

(SAGE)1429709
655
7

.

‡a

Fantasy films.

‡2

lcgft

‡0

(SAGE)1429336
700
1

.

‡a

Linz, Erica.

‡4

act.
700
1

.

‡a

Zaripov, Igor.

‡4

act.
700
1

.

‡a

Halbhubner, Lutz.

‡4

act.
700
1

.

‡a

Cameron, James,

‡d

1954-

‡4

pro.

‡0

(SAGE)1848943
700
1

.

‡a

Adamson, Andrew.

‡4

pro

‡4

drt

‡4

aui.

‡0

(SAGE)1978524
700
1

.

‡a

Bolduc, Martin.

‡4

pro.

‡0

(SAGE)2008027
700
1

.

‡a

Warner, Aron.

‡4

pro.

‡0

(SAGE)1986541
710
2

.

‡a

Cirque du Soleil Images Inc.

‡0

(SAGE)1988101
710
2

.

‡a

ReelFX (Firm)
710
2

.

‡a

Strange Weather (Firm)
710
2

.

‡a

Paramount Pictures Corporation.

‡0

(SAGE)1674326
999

.

‡e

DVD

‡f

h
901

.

‡a

827237404

‡b

OCoLC

‡c

1458942

‡t

biblio