---

Hamilton : the revolution : being the complete libretto of the broadway musical, with a true account of its creation, and concise remarks on hip-hop, the power of stories, and the new America / by Lin-Manuel Miranda and Jeremy McCarter.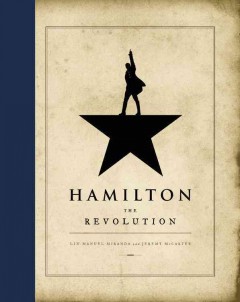 Available copies
8 of 10 copies available at Sage Library System.
1 of 1 copy available at Hood River County Library District. (Show)
Current holds
1 current hold with 10 total copies.
Summary:
Offers a behind-the-scenes view of Hamilton the musical, detailing the many dramatic episodes in Alexander Hamilton's life.
View other formats and editions
Record details
ISBN:

9781455539741

Physical Description:

287 pages : illustrations (chiefly color) ; 27 cm

Edition:

First edition.

Publisher:

New York :

Grand Central Publishing/Melcher Media,

2016.
Content descriptions
| | |
| --- | --- |
| General Note: | Includes libretto and photographs from the musical, as well as an account of the creation of the musical, from the composition of the first song of the show in 2009 to the opening night in 2015. |
| Summary, etc.: | Offers a behind-the-scenes view of Hamilton the musical, detailing the many dramatic episodes in Alexander Hamilton's life. |
Search for related items by subject
LDR
01800cam a2200397 i 4500
001
1643737
003
SAGE
005
20160607163601.0
008
160310s2016 nyua e 000 0 eng d
010

.

‡a

bl2016011149
020

.

‡a

9781455539741
035

.

‡a

(OCoLC)920451537
040

.

‡b

eng

‡e

rda

‡c

WAC

‡d

WAC

‡d

OXP
050
1
4

.

‡a

ML410.M6799

‡b

M47 2016
082
0
4

.

‡a

792.6/42

‡2

23
100
1

.

‡a

Miranda, Lin-Manuel,

‡d

1980-

‡e

author,

‡e

librettist,

‡e

composer.

‡0

(SAGE)2018678
240
1
0

.

‡a

Hamilton (Libretto)
245
1
0

.

‡a

Hamilton :

‡b

the revolution : being the complete libretto of the broadway musical, with a true account of its creation, and concise remarks on hip-hop, the power of stories, and the new America /

‡c

by Lin-Manuel Miranda and Jeremy McCarter.
250

.

‡a

First edition.
264
1

.

‡a

New York :

‡b

Grand Central Publishing/Melcher Media,

‡c

2016.
300

.

‡a

287 pages :

‡b

illustrations (chiefly color) ;

‡c

27 cm
336

.

‡a

text

‡b

txt

‡2

rdacontent.
336

.

‡a

still image

‡b

sti

‡2

rdacontent
337

.

‡a

unmediated

‡b

n

‡2

rdamedia
338

.

‡a

volume

‡b

nc

‡2

rdacarrier
520

.

‡a

Offers a behind-the-scenes view of Hamilton the musical, detailing the many dramatic episodes in Alexander Hamilton's life.
500

.

‡a

Includes libretto and photographs from the musical, as well as an account of the creation of the musical, from the composition of the first song of the show in 2009 to the opening night in 2015.
600
1
0

.

‡a

Hamilton, Alexander,

‡d

1757-1804

‡v

Drama.
600
1
0

.

‡a

Miranda, Lin-Manuel,

‡d

1980-

‡t

Hamilton.

‡0

(SAGE)2068924
650
0

.

‡a

Musicals

‡v

Librettos.

‡0

(SAGE)1485187
650
0

.

‡a

Musicals

‡z

United States

‡x

History and criticism.

‡0

(SAGE)1518299
655
7

.

‡a

Musicals.

‡2

lcgft

‡0

(SAGE)1429620
655
7

.

‡a

Librettos.

‡2

lcgft

‡0

(SAGE)1429605
700
1

.

‡a

McCarter, Jeremy,

‡d

1976-

‡e

author.

‡0

(SAGE)1597608
905

.

‡u

admin
999

.

‡e

Book
901

.

‡a

920451537

‡b

OCoLC

‡c

1643737

‡t

biblio