---

The 100 best vegan baking recipes : amazing cookies, cakes, muffins, pies, brownies and breads / Kris Holechek.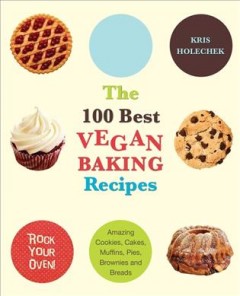 Available copies
0 of 1 copy available at Sage Library System. (Show)
0 of 1 copy available at Hood River County Library District.
Current holds
0 current holds with 1 total copy.
Summary:
Contains one hundred simple recipes for vegan cookies, cakes, and pastries, including egg and dairy replacements and recipes for a variety of toppings.
Location
Call Number / Copy Notes
Barcode
Shelving Location
Circulation Modifier
Age Hold Protection
Active/Create Date
Status
Due Date

Hood River County Library

641.5636 HOL 2009

(Text)
33892100286898

Adult Non-Fiction

Book
None
03/14/2017
Checked out
12/14/2021
Record details
ISBN:

1569757143

ISBN:

9781569757147

Physical Description:

168 pages ; 24 cm

Publisher:

Berkeley, CA :

Ulysses Press ;

©2009.
Content descriptions
| | |
| --- | --- |
| General Note: | Includes index. |
| Summary, etc.: | Contains one hundred simple recipes for vegan cookies, cakes, and pastries, including egg and dairy replacements and recipes for a variety of toppings. |
Search for related items by subject
LDR
01541cam a2200409Ia 4500
001
1894851
003
SAGE
005
20170227184529.0
008
090117s2009 cau 001 0 eng d
010

.

‡a

2009902006
020

.

‡a

1569757143

‡q

(pbk.)
020

.

‡a

9781569757147

‡q

(pbk.)
035

.

‡a

(OCoLC)298781873
040

.

‡a

BTCTA

‡b

eng

‡c

BTCTA

‡d

BKL

‡d

CPL

‡d

JAO

‡d

OQX

‡d

OCLCA

‡d

JRN

‡d

YDXCP

‡d

BDX

‡d

OCLCF

‡d

OCLCQ
049

.

‡a

OR4A
050
1
4

.

‡a

TX837

‡b

.H626 2009
082
0
4

.

‡a

641.563/6

‡2

22
100
1

.

‡a

Holechek Peters, Kris.
245
1
4

.

‡a

The 100 best vegan baking recipes :

‡b

amazing cookies, cakes, muffins, pies, brownies and breads /

‡c

Kris Holechek.
246
3

.

‡a

One hundred best vegan baking recipes
246
3

.

‡a

Hundred best vegan baking recipes
260

.

‡a

Berkeley, CA :

‡b

Ulysses Press ;

‡a

[Berkeley, Calif.?] :

‡b

Distributed by Publishers Group West,

‡c

©2009.
300

.

‡a

168 pages ;

‡c

24 cm
336

.

‡a

text

‡b

txt

‡2

rdacontent
337

.

‡a

unmediated

‡b

n

‡2

rdamedia
338

.

‡a

volume

‡b

nc

‡2

rdacarrier
500

.

‡a

Includes index.
520

.

‡a

Contains one hundred simple recipes for vegan cookies, cakes, and pastries, including egg and dairy replacements and recipes for a variety of toppings.
650
0

.

‡a

Vegan cooking.

‡0

(DLC)1499541
650
0

.

‡a

Pastry.

‡0

(DLC)1464943
650
0

.

‡a

Baking.

‡0

(DLC)1435819
650
7

.

‡a

Baking.

‡2

fast

‡0

(DLC)1435819
650
7

.

‡a

Pastry.

‡2

fast

‡0

(DLC)1464943
650
7

.

‡a

Vegan cooking.

‡2

fast

‡0

(DLC)1499541
994

.

‡a

C0

‡b

OR4
905

.

‡u

admin
999

.

‡e

Book
901

.

‡a

ocn298781873

‡b

OCoLC

‡c

1894851

‡t

biblio

‡s

oclc