---
In my kitchen : a collection of new and favorite vegetarian recipes / Deborah Madison ; photography by Erin Scott.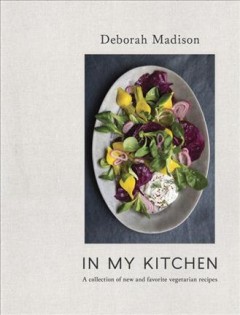 Available copies
3 of 3 copies available at Sage Library System. (Show)
1 of 1 copy available at Hood River County Library District.
Current holds
0 current holds with 3 total copies.
Summary:
Deborah Madison is an icon of cooking, not only for bringing vegetarian food into the mainstream and lifting it to new standards, but also for championing the farmers who grow our food and introducing us to new and forgotten varietals of vegetables and grains. This book takes you inside her home, reflecting how she cooks and eats today--with sophisticated and layered recipes that have been pared down and perfected after years of refinement. The more than 100 recipes included here showcase Deborah's style of carefully considered, forgiving, and endlessly adaptable recipes--perfect as they are, but also ripe for modification and improvisation. Organized alphabetically, with many vegan and gluten-free options, this collection is for cooks of all ages and skill levels.
Location
Call Number / Copy Notes
Barcode
Shelving Location
Circulation Modifier
Age Hold Protection
Active/Create Date
Status
Due Date

Hood River County Library

641.5636 MAD 2017

(Text)
33892100445668

Adult Non-Fiction

Book
None
04/04/2017
Available
-
Record details
ISBN:

9780399578885

ISBN:

0399578889

Physical Description:

285 pages : color illustrations ; 26 cm

Edition:

First edition.

Publisher:

California :

Ten Speed Press, an imprint of the Crown Publishing Group, a dvision of Penguin Random House LLC,

[2017]

Copyright:

©2017
Content descriptions
| | |
| --- | --- |
| General Note: | Includes index. |
| Summary, etc.: | Deborah Madison is an icon of cooking, not only for bringing vegetarian food into the mainstream and lifting it to new standards, but also for championing the farmers who grow our food and introducing us to new and forgotten varietals of vegetables and grains. This book takes you inside her home, reflecting how she cooks and eats today--with sophisticated and layered recipes that have been pared down and perfected after years of refinement. The more than 100 recipes included here showcase Deborah's style of carefully considered, forgiving, and endlessly adaptable recipes--perfect as they are, but also ripe for modification and improvisation. Organized alphabetically, with many vegan and gluten-free options, this collection is for cooks of all ages and skill levels. -- From the publisher. |
Search for related items by subject
LDR
02885cam a22005178i 4500
001
1909362
003
SAGE
005
20170403193935.0
008
160824t20172017caua 001 0 eng
010

.

‡a

2016038957
020

.

‡a

9780399578885

‡q

(hardcover : alk. paper) :

‡c

$32.50
020

.

‡a

0399578889

‡q

(hardcover : alk. paper)
035

.

‡a

(OCoLC)961357600
040

.

‡a

DLC

‡b

eng

‡e

rda

‡c

DLC

‡d

OCLCF

‡d

ON8

‡d

QX9

‡d

JQM

‡d

CLE

‡d

ABG

‡d

UOK

‡d

APL

‡d

NYP

‡d

IGA

‡d

TXDRI

‡d

OR4
042

.

‡a

pcc
050
4

.

‡a

TX837

‡b

.M23613 2017
050
0
0

.

‡a

TX714

‡b

.M3349 2017
082
0
4

.

‡a

641.5/636

‡2

23
082
0
0

.

‡a

641.5

‡2

23
100
1

.

‡a

Madison, Deborah,

‡e

author.

‡0

(DLC)1776623
245
1
0

.

‡a

In my kitchen :

‡b

a collection of new and favorite vegetarian recipes /

‡c

Deborah Madison ; photography by Erin Scott.
250

.

‡a

First edition.
264
1

.

‡a

California :

‡b

Ten Speed Press, an imprint of the Crown Publishing Group, a dvision of Penguin Random House LLC,

‡c

[2017]
264
4

.

‡c

©2017
300

.

‡a

285 pages :

‡b

color illustrations ;

‡c

26 cm
336

.

‡a

text

‡b

txt

‡2

rdacontent
336

.

‡a

still image

‡b

sti

‡2

rdacontent
337

.

‡a

unmediated

‡b

n

‡2

rdamedia
338

.

‡a

volume

‡b

nc

‡2

rdacarrier
500

.

‡a

Includes index.
520

.

‡a

Deborah Madison is an icon of cooking, not only for bringing vegetarian food into the mainstream and lifting it to new standards, but also for championing the farmers who grow our food and introducing us to new and forgotten varietals of vegetables and grains. This book takes you inside her home, reflecting how she cooks and eats today--with sophisticated and layered recipes that have been pared down and perfected after years of refinement. The more than 100 recipes included here showcase Deborah's style of carefully considered, forgiving, and endlessly adaptable recipes--perfect as they are, but also ripe for modification and improvisation. Organized alphabetically, with many vegan and gluten-free options, this collection is for cooks of all ages and skill levels.

‡c

-- From the publisher.
650
0

.

‡a

Cooking.

‡0

(DLC)1533686
650
0

.

‡a

Vegetarian cooking.

‡0

(DLC)1481540
650
7

.

‡a

Cooking.

‡2

fast

‡0

(DLC)1533686
650
7

.

‡a

Vegetarian cooking.

‡2

fast

‡0

(DLC)1481540
650
7

.

‡a

COOKING / Health & Healing.

‡2

bisacsh
650
7

.

‡a

COOKING / Specific Ingredients / Vegetables.

‡2

bisacsh
650
7

.

‡a

COOKING / Vegetarian.

‡2

bisacsh
650
4

.

‡a

Vegetarian cooking.

‡0

(DLC)1481540
655
7

.

‡a

Cookbooks.

‡2

lcgft

‡0

(DLC)1429300
655
7

.

‡a

Cookbooks.

‡2

fast

‡0

(DLC)1429300
700
1

.

‡a

Scott, Erin,

‡e

photographer.

‡0

(DLC)2066339
776
0
8

.

‡i

Online version:

‡a

Madison, Deborah.

‡t

In my kitchen.

‡b

First edition.

‡d

Berkeley : Ten Speed Press, [2017]

‡z

9780399578892

‡w

(DLC) 2016049626

‡w

(OCoLC)961388667
999

.

‡e

Book
905

.

‡u

admin
901

.

‡a

ocn961357600

‡b

OCoLC

‡c

1909362

‡t

biblio