---
#NotYourPrincess : voices of Native American women / edited by Lisa Charleyboy and Mary Beth Leatherdale.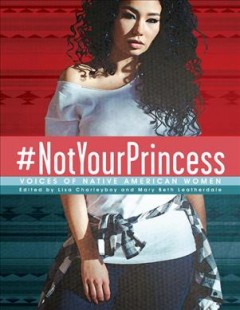 Available copies
12 of 12 copies available at Sage Library System. (Show)
1 of 1 copy available at Hood River County Library District.
Current holds
0 current holds with 12 total copies.
Summary:
"Whether looking back to a troubled past or welcoming a hopeful future, the powerful voices of Indigenous women across North America resound in this book. In the same style as the best-selling Dreaming in Indian, #Not Your Princess presents an eclectic collection of poems, essays, interviews, and art that combine to express the experience of being a Native woman. Stories of abuse, humiliation, and stereotyping are countered by the voices of passionate women making themselves heard and demanding change. Sometimes angry, often reflective, but always strong, the women in this book will give teen readers insight into the lives of women who, for so long, have been virtually invisible."--
Location
Call Number / Copy Notes
Barcode
Shelving Location
Circulation Modifier
Age Hold Protection
Active/Create Date
Status
Due Date

Cascade Locks Library

YA 305.48897 NOT 2017

(Text)
33892100506964

Young Adult Non-Fiction

Book
None
01/30/2018
Available
-
Record details
ISBN:

9781554519583

ISBN:

1554519586

ISBN:

9781554519576

ISBN:

1554519578

Physical Description:

109 pages : color illustrations ; 29 cm

Publisher:

Toronto :

Annick Press Ltd.,

2017.
Content descriptions
| | |
| --- | --- |
| Formatted Contents Note: | Shawl of memory's embrace / Clear Wind Blows Over the Moon (Cree/Innu-Montagnais/Dene/Metis) -- The ties that bind us. Tear / Linda Hogan (Chicksaw) ; Blankets of shame / Maria Campbell (Metis) ; Two braids / Rosanna Deerchild (Cree) ; My parents' pain / Madelaine McCallum (Cree/Metis) ; #LittleSalmonWoman / Lianne Charlie (Tage Cho Hudan) ; Reclaiming indigenous women's rights / Nahanni Fontaine (Anishinaabe) -- A tale of two Winonas / Winona Linn (Maliseet) ; Leaks / Leanne Simpson (Michi Saagiig Nishnaabeg) -- My grandmother Sophia / Saige Mukash (Cree) ; In her words / Winona LaDuke (Anishinaabe/Ojibwe) & Jen VanStrander (Western Band of Cherokee) -- It could have been me. Falling / Natanya Ann Pulley (Navajo) ; I don't want to be afraid / Imajyn Cardinal (Cree/Dene) ; She is riding / Joanne Arnott (Metis) ; Onto the Red Road / Dana Claxton (Hunkpapa Lakota) ; The things we taught our daughters / Helen Knott (Dane Zaa/Cree) ; Freedom in the fog / Zoey Roy (Cree/Dene/Metis) ; It could have been me / Patty Stonefish (Lakota) ; Honor song / Gwen Benaway (Anishinaabe/Metis) ; In her words / Gloria Larocque Campbell Moses (Sturgeon Lake Cree Nation, Northern Alberta) & Nathalie Bertin (Metis) -- I am not your princess. A conversation with a massage therapist / Francine Cunningham (Cree/Metis) ; We are not a costume / Jessica Deer (Mohawk) ; The invisible Indians / Shelby Lisk (Mohawk) ; What's there to take back? / Tiffany Midge (Hunkpapa Lakota) ; Why not Indians? / DeLanna Studi (Cherokee) ; Stereotype this / Melanie Fey (Dine) ; Real NDNZ / Pamela J. Peters (Navajo) ; I am the only American Indian / Cecilia Rose LaPointe (Ojibway/Metis) ; In her words / Hazel Hedgecoke (Sioux/Hunkpapa/Wendat/Metis/Cherokee/Creek) & Tanaya Winder (Duckwater Shoshone) -- Pathfinders. When I have a daughter / Ntawnis Piapot (Piapot Cree Nation) ; Defender of Mother Earth / AnnaLee Rain Yellowhammer (Hunkpapa/Standing Rock Sioux) ; Digital smoke signals / Various ; Living their dreams / Shoni Schimmel (Umatilla), September Big Crow (Tsuu T'ina Nation), Ashton Locklear (Lumbee), Brigitte Lacquette (Ojibwe) ; Good medicine / Janet Smylie (Cree/Metis) ; More than meets the eye / Kelly Edzerza-Bapty (Tahitan) and Claire Anderson (Tlingit) ; Baby-girlz-gotta-Mustang / Dana Claxton (Hunkpapa Lakota) ; "Dear Past Self" / Isabella Fillspipe (Oglala Lakota) ; In her words / Adrianne Chalepah (Kiowa/Apache) & Lee Maracle (Sto:lo Nation) ; Little sister / Tasha Spillett (Cree). |
| Summary, etc.: | "Whether looking back to a troubled past or welcoming a hopeful future, the powerful voices of Indigenous women across North America resound in this book. In the same style as the best-selling Dreaming in Indian, #Not Your Princess presents an eclectic collection of poems, essays, interviews, and art that combine to express the experience of being a Native woman. Stories of abuse, humiliation, and stereotyping are countered by the voices of passionate women making themselves heard and demanding change. Sometimes angry, often reflective, but always strong, the women in this book will give teen readers insight into the lives of women who, for so long, have been virtually invisible."-- Provided by publisher. |
| Additional Physical Form available Note: | Issued also in electronic formats. |
Search for related items by subject