---
Consent. : The new rules of sex education; every teen's guide to healthy sexual relationships / Jennifer Lang, MD.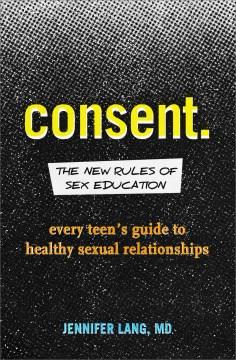 Available copies
2 of 2 copies available at Sage Library System. (Show)
1 of 1 copy available at Hood River County Library District.
Current holds
0 current holds with 2 total copies.
Summary:
"There's a lot to talk about when it comes to sex education, anatomy, communication, safety, and more. In this groundbreaking book, Dr. Jennifer Lang delivers a frank, compassionate, and evidence-based guide to healthy sexual relationships, focusing on the crucial role of consent in sex education. A board-certified OB-GYN, Dr. Lang breaks down confusing concepts into factual and clear guidance. She outlines not only what consent looks and sounds like, but the importance of recognizing when a person has the capacity to give consent, and when they don't. Written for all teens, and inclusive of all sexual identities and orientations, Consent is a reference guide to healthy sexual expression and relationships." --Amazon.com.
Location
Call Number / Copy Notes
Barcode
Shelving Location
Circulation Modifier
Age Hold Protection
Active/Create Date
Status
Due Date

Hood River County Library

YA 306.7 LAN 2018

(Text)
33892100585612

Young Adult Non-Fiction

Book
None
01/22/2019
Available
-
Record details
ISBN:

9781641522809

(paperback)
ISBN:

1641522801

(paperback)
Physical Description:

xiii, 111 pages : color illustrations ; 20 cm.

Publisher:

Emmeryville, CA :

Althena Press, ;

[2018]

Copyright:

2018.
Content descriptions
| | |
| --- | --- |
| Bibliography, etc. Note: | Includes index and bibliographic references (pages 105-108). |
| Formatted Contents Note: | Introduction -- let's talk about sex -- dating & relationships -- consent, capacity, and communication -- practicing safer sex -- abuse and assault. |
| Summary, etc.: | "There's a lot to talk about when it comes to sex education, anatomy, communication, safety, and more. In this groundbreaking book, Dr. Jennifer Lang delivers a frank, compassionate, and evidence-based guide to healthy sexual relationships, focusing on the crucial role of consent in sex education. A board-certified OB-GYN, Dr. Lang breaks down confusing concepts into factual and clear guidance. She outlines not only what consent looks and sounds like, but the importance of recognizing when a person has the capacity to give consent, and when they don't. Written for all teens, and inclusive of all sexual identities and orientations, Consent is a reference guide to healthy sexual expression and relationships." --Amazon.com. |
Search for related items by subject
LDR
02012nam a22003375 4500
001
2039875
003
SAGE
005
20190119002319.0
008
181127s2018 caua d b 001 0 eng d
020

.

‡a

9781641522809 (paperback)
020

.

‡a

1641522801 (paperback)
035

.

‡a

(CoBoFLC)FLC0024037297
040

.

‡a

NjBwBT

‡b

eng

‡e

rda

‡c

NjBwBT

‡d

CoBoFLC
082
0
4

.

‡a

613.9/0712

‡2

23
092

.

‡a

613.0000
100
1

.

‡a

Lang, Jennifer,

‡e

author.

‡0

(DLC)1919259
245
1
0

.

‡a

Consent. :

‡b

The new rules of sex education; every teen's guide to healthy sexual relationships /

‡c

Jennifer Lang, MD.
264
1

.

‡a

Emmeryville, CA :

‡b

Althena Press, ;

‡c

[2018]
264
4

.

‡c

2018.
300

.

‡a

xiii, 111 pages :

‡b

color illustrations ;

‡c

20 cm.
336

.

‡a

text

‡b

txt

‡2

rdacontent.
337

.

‡a

unmediated

‡b

n

‡2

rdamedia.
338

.

‡a

volume

‡b

nc

‡2

rdacarrier.
505
0

.

‡g

Introduction --

‡t

let's talk about sex --

‡t

dating & relationships --

‡t

consent, capacity, and communication --

‡t

practicing safer sex --

‡t

abuse and assault.
520

.

‡a

"There's a lot to talk about when it comes to sex education, anatomy, communication, safety, and more. In this groundbreaking book, Dr. Jennifer Lang delivers a frank, compassionate, and evidence-based guide to healthy sexual relationships, focusing on the crucial role of consent in sex education. A board-certified OB-GYN, Dr. Lang breaks down confusing concepts into factual and clear guidance. She outlines not only what consent looks and sounds like, but the importance of recognizing when a person has the capacity to give consent, and when they don't. Written for all teens, and inclusive of all sexual identities and orientations, Consent is a reference guide to healthy sexual expression and relationships." --Amazon.com.
504

.

‡a

Includes index and bibliographic references (pages 105-108).
650
0

.

‡a

Sex instruction for teenagers.

‡0

(DLC)1486242
650
0

.

‡a

Sex instruction.

‡0

(DLC)1472587
650
0

.

‡a

Teenagers

‡x

Sexual behavior.

‡0

(DLC)1504042
999

.

‡e

Book
905

.

‡u

admin
901

.

‡a

FLC0024037297

‡b

CoBoFLC

‡c

2039875

‡t

biblio