---

Unexampled courage : the blinding of Sgt. Isaac Woodard and the awakening of President Harry S. Truman and Judge J. Waties Waring / Richard Gergel.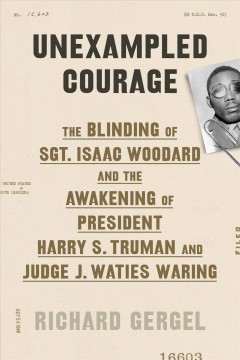 Available copies
3 of 3 copies available at Sage Library System. (Show)
1 of 1 copy available at Hood River County Library District.
Current holds
0 current holds with 3 total copies.
Summary:
"Sergeant Isaac Woodard, a battlefield-decorated African American soldier, climbed aboard a Greyhound bus on February 12, 1946, in Augusta, Georgia, on his last leg home after three years of military service. Things suddenly went awry when a brief heated exchange with the bus driver resulted in Woodard's removal from the bus and his arrest in the small town of Batesburg, South Carolina. Shortly after the Batesburg police chief, Lynwood Shull, took Woodard into custody, he beat the soldier with his blackjack, blinding him. Details of Woodard's tragic encounter soon reached President Harry S. Truman. Outraged by the treatment of a uniformed American soldier, Truman wrote to his attorney general and made it clear that there was a need for an effective federal response. Within days, criminal civil rights charges were brought against Shull in the federal district court in South Carolina and Truman began establishing the first presidential committee on civil rights. Truman's committee recommended groundbreaking reforms, including ending segregation in the armed forces. On July 26, 1948, Truman, over vigorous opposition, issued Executive Order 9981, integrating the American military and marking the beginning of the end of Jim Crow. Shull was tried before United States District Judge J. Waties Waring, a Charleston patrician whose father was a Confederate veteran. An all-white jury quickly acquitted Shull, but Judge Waring was conscience-stricken by the failure of the justice system to hold the obviously culpable police chief accountable. Waring soon began issuing landmark civil rights decisions that rocked his native state and challenged the foundations of racial segregation and of black disenfranchisement. His courageous dissent in a 1951 school desegregation case, in which he declared segregation per se unconstitutional, became the model for the Supreme Court's unanimous decision in Brown v. Board of Education three years later. Richard Gergel's [book] details the long-overlooked story of the blinding of Sergeant Woodard and its transformative effect on President Truman, Judge Waring, and, ultimately, America's civil rights history."--Jacket.
Location
Call Number / Copy Notes
Barcode
Shelving Location
Circulation Modifier
Age Hold Protection
Active/Create Date
Status
Due Date

Hood River County Library

323.1196 GER 2019

(Text)
33892100588970

Adult Non-Fiction

Book
None
02/26/2019
Available
-
Record details
ISBN:

9780374107895

ISBN:

0374107890

Physical Description:

324 pages, [16] pages of plates : illustrations ; 24 cm

Edition:

First edition.

Publisher:

New York :

Sarah Crichton Books ;

2019.
Content descriptions
| | |
| --- | --- |
| Bibliography, etc. Note: | Includes bibliographical references (pages [275]-304) and index. |
| Formatted Contents Note: | Introduction: A collision of two worlds -- A tragic detour -- A wave of terror -- "The place was Batesburg" -- The bystander government -- "My God--we have got to do something" -- The Isaac Woodard Road Show -- The gradualist -- "A baptism in racial prejudice" -- "I shall fight to end evil like this" -- "We know the way. We need only the will!" -- Confronting the American dilemma -- There will be no fines -- Fighting the "battle royal" -- Driving the "last nail in the coffin of segregation" -- Conclusion: Unexampled courage. |
| Summary, etc.: | "Sergeant Isaac Woodard, a battlefield-decorated African American soldier, climbed aboard a Greyhound bus on February 12, 1946, in Augusta, Georgia, on his last leg home after three years of military service. Things suddenly went awry when a brief heated exchange with the bus driver resulted in Woodard's removal from the bus and his arrest in the small town of Batesburg, South Carolina. Shortly after the Batesburg police chief, Lynwood Shull, took Woodard into custody, he beat the soldier with his blackjack, blinding him. Details of Woodard's tragic encounter soon reached President Harry S. Truman. Outraged by the treatment of a uniformed American soldier, Truman wrote to his attorney general and made it clear that there was a need for an effective federal response. Within days, criminal civil rights charges were brought against Shull in the federal district court in South Carolina and Truman began establishing the first presidential committee on civil rights. Truman's committee recommended groundbreaking reforms, including ending segregation in the armed forces. On July 26, 1948, Truman, over vigorous opposition, issued Executive Order 9981, integrating the American military and marking the beginning of the end of Jim Crow. Shull was tried before United States District Judge J. Waties Waring, a Charleston patrician whose father was a Confederate veteran. An all-white jury quickly acquitted Shull, but Judge Waring was conscience-stricken by the failure of the justice system to hold the obviously culpable police chief accountable. Waring soon began issuing landmark civil rights decisions that rocked his native state and challenged the foundations of racial segregation and of black disenfranchisement. His courageous dissent in a 1951 school desegregation case, in which he declared segregation per se unconstitutional, became the model for the Supreme Court's unanimous decision in Brown v. Board of Education three years later. Richard Gergel's [book] details the long-overlooked story of the blinding of Sergeant Woodard and its transformative effect on President Truman, Judge Waring, and, ultimately, America's civil rights history."--Jacket. |
Search for related items by subject