---

Superman smashes the Klan : the graphic novel / written by Gene Luen Yang ; art by Gurihiru ; lettering by Janice Chiang.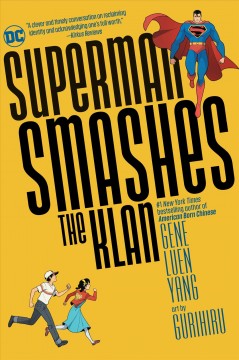 Available copies
7 of 9 copies available at Sage Library System. (Show)
4 of 4 copies available at Hood River County Library District.
Current holds
0 current holds with 9 total copies.
Summary:
When Dr. Lee moves his family to Metropolis, his son Tommy adjusts to the new neighborhood while daugher Roberta feels out of place, so when the evil Klan of the Fiery Cross begins a string of terrorist attacks on the city, Superman fights them, and Roberta and Superman soon learn to embrace their own unique features that set them apart.
Location
Call Number / Copy Notes
Barcode
Shelving Location
Circulation Modifier
Age Hold Protection
Active/Create Date
Status
Due Date

Cascade Locks Library

J GRAPHIC FIC YANG

(Text)
33892100700120

Children's New Books

Book
None
08/29/2020
Available
-

Hood River County Library

J GRAPHIC FIC YANG

(Text)
33892100700088

Children's Graphic Novels & Comics

Book
None
08/18/2020
Available
-

Hood River County Library

YA GRAPHIC FIC YANG

(Text)
33892100672204

Young Adult Graphic Novels & Comics

Book
None
07/24/2020
Available
-

Parkdale Community Library

J GRAPHIC FIC YANG

(Text)
33892100706242

Children's New Books

Book
None
10/24/2020
Available
-
Record details
ISBN:

9781779504210

ISBN:

1779504217

ISBN:

9781779509321

Physical Description:

239 pages : illustrations (chiefly color) ; 23 cm

Publisher:

Burbank :

DC Comics,

[2020]

Copyright:

©2020
Content descriptions
General Note:

"Superman created by Jerry Siegel and Joe Shuster, by special arrangement with the Jerry Siegel family."

Chiefly illustrations.

Bibliography, etc. Note:

Includes bibliographical references.

Summary, etc.:

When Dr. Lee moves his family to Metropolis, his son Tommy adjusts to the new neighborhood while daugher Roberta feels out of place, so when the evil Klan of the Fiery Cross begins a string of terrorist attacks on the city, Superman fights them, and Roberta and Superman soon learn to embrace their own unique features that set them apart.

Target Audience Note:

Ages 13+ DC Comics

Grades 10-12 DC Comics
Search for related items by subject
LDR
02133pam a2200481 i 4500
001
2185517
003
SAGE
005
20210216203209.0
008
200227t20202020caua d b6 000 c eng
010

.

‡a

2020010185
020

.

‡a

9781779504210
020

.

‡a

1779504217
020

.

‡a

9781779509321
035

.

‡a

(DLC)1124904626
037

.

‡b

Dc Comics, C/O Random House 400 Hahn rd, Westminister, MD, USA, 21157, (212)5722107

‡n

SAN 201-3975
040

.

‡a

MvI

‡b

eng

‡c

MvI

‡d

BRD
049

.

‡a

$LIBSAGO

‡s

AO

‡p

1

‡n

0001
100
1

.

‡a

Yang, Gene Luen,

‡e

author.

‡0

(DLC)1585151
245
1
0

.

‡a

Superman smashes the Klan :

‡b

the graphic novel /

‡c

written by Gene Luen Yang ; art by Gurihiru ; lettering by Janice Chiang.
264
1

.

‡a

Burbank :

‡b

DC Comics,

‡c

[2020]
264
4

.

‡c

©2020
300

.

‡a

239 pages :

‡b

illustrations (chiefly color) ;

‡c

23 cm
336

.

‡a

text

‡b

txt

‡2

rdacontent
336

.

‡a

still image

‡2

rdacontent
337

.

‡a

unmediated

‡b

n

‡2

rdamedia
338

.

‡a

volume

‡b

nc

‡2

rdacarrier
500

.

‡a

"Superman created by Jerry Siegel and Joe Shuster, by special arrangement with the Jerry Siegel family."
500

.

‡a

Chiefly illustrations.
504

.

‡a

Includes bibliographical references.
521

.

‡a

Ages 13+

‡b

DC Comics
521

.

‡a

Grades 10-12

‡b

DC Comics
520

.

‡a

When Dr. Lee moves his family to Metropolis, his son Tommy adjusts to the new neighborhood while daugher Roberta feels out of place, so when the evil Klan of the Fiery Cross begins a string of terrorist attacks on the city, Superman fights them, and Roberta and Superman soon learn to embrace their own unique features that set them apart.
600
0
0

.

‡a

Superman

‡c

(Fictitious character)

‡v

Comic books, strips, etc.
650
0

.

‡a

Justice

‡v

Comic books, strips, etc.
650
0

.

‡a

Identity (Philosophical concept)

‡v

Comic books, strips, etc.
650
1

.

‡a

Identity

‡v

Fiction.
655
0

.

‡a

Young adult fiction.
655
7

.

‡a

Graphic novels.

‡2

lcgft

‡0

(DLC)1430198
655
7

.

‡a

Comics (Graphic works)

‡2

lcgft

‡0

(DLC)1430038
655
7

.

‡a

Superhero comics.

‡2

lcgft
655
7

.

‡a

Fiction.

‡2

lcgft

‡0

(DLC)1430163
700
1

.

‡a

Chiang, Janice,

‡e

letterer.

‡0

(DLC)1895836
710
2

.

‡a

Gurihiru,

‡e

artist.

‡0

(DLC)1585479
776
0
8

.

‡i

Online version
776
0
8

.

‡a

Yang, Gene Luen.

‡t

Superman smashes the klan

‡d

Burbank : DC Comics, [2020]

‡z

9781779504227

‡w

(DLC) 2020010186
902

.

‡a

MARCIVE 062020
999

.

‡e

Book
901

.

‡a

1124904626

‡b

DLC

‡c

2185517

‡t

biblio