---
Pete el gato and his four groovy buttons / ilustrado por James Dean (creador de Pete el gato) ; escrito por Eric Litwin.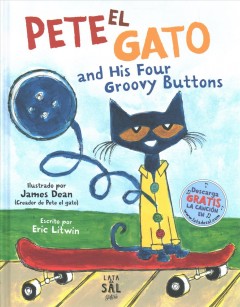 Available copies
3 of 4 copies available at Sage Library System. (Show)
0 of 1 copy available at Hood River County Library District.
Current holds
0 current holds with 4 total copies.
Summary:
"En esta segunda historia, Pete descubre que, aunque pierda sus botones uno a uno, siempre le quedará el más importante... su ombligo. Un libro para contar, y para cantar"--Amazon.es
Search for related items by series
Location
Call Number / Copy Notes
Barcode
Shelving Location
Circulation Modifier
Age Hold Protection
Active/Create Date
Status
Due Date

Hood River County Library

J SP PIC DEA

(Text)
33892100699264

Niños New Español

Book
None
07/27/2020
Checked out
12/09/2020
Record details
ISBN:

9788494918261

ISBN:

8494918265

Physical Description:

1 volume (unpaged) : color illustrations ; 29 cm.

Publisher:

Madrid :

Lata de Sal,

[2019]

Copyright:

©2019
Content descriptions
General Note:

"Descarga gratis la canción en www.latadesal.com" -- Cover.

Summary, etc.:

"En esta segunda historia, Pete descubre que, aunque pierda sus botones uno a uno, siempre le quedará el más importante... su ombligo. Un libro para contar, y para cantar"--Amazon.es

Pete the cat loves the buttons on his shirt so much that he makes up a song about them, and even as the buttons pop off, one by one, he still finds a reason to sing.

"Un exitazo de Pete para cantar y contar"--Back cover.

Language Note:

In Spanish and English.

Awards Note:

Premio Theodor Seuss Geisel
Search for related items by subject
LDR
03021cam a2200733Ii 4500
001
2218188
003
SAGE
005
20200709191630.0
008
190701t20192019sp a j 000 1 spa d
020

.

‡a

9788494918261
020

.

‡a

8494918265
035

.

‡a

(OCoLC)1106558980
049

.

‡a

OR4A
040

.

‡a

DPL

‡b

eng

‡e

rda

‡c

DPL

‡d

SOM

‡d

SAP

‡d

OCLCF

‡d

BDX

‡d

ANK

‡d

UAP

‡d

CHILD
041
1

.

‡a

spa

‡h

eng
050
4

.

‡a

PZ
092
0

.

‡a

[E]

‡2

23
100
1

.

‡a

Dean, James,

‡d

1957-

‡e

illustrator.

‡0

(SAGE)1602181
240
1
0

.

‡a

Pete the cat and his four groovy buttons.

‡l

Spanish
245
1
0

.

‡a

Pete el gato and his four groovy buttons /

‡c

ilustrado por James Dean (creador de Pete el gato) ; escrito por Eric Litwin.
264
1

.

‡a

Madrid :

‡b

Lata de Sal,

‡c

[2019]
264
4

.

‡c

©2019
300

.

‡a

1 volume (unpaged) :

‡b

color illustrations ;

‡c

29 cm.
336

.

‡a

text

‡b

txt

‡2

rdacontent
336

.

‡a

still image

‡b

sti

‡2

rdacontent
337

.

‡a

unmediated

‡b

n

‡2

rdamedia
338

.

‡a

volume

‡b

nc

‡2

rdacarrier
385

.

‡n

age

‡a

Children

‡2

lcdgt
490
1

.

‡a

Pete the cat
490
1

.

‡a

Colección gatos
500

.

‡a

"Descarga gratis la canción en www.latadesal.com" -- Cover.
520

.

‡a

"En esta segunda historia, Pete descubre que, aunque pierda sus botones uno a uno, siempre le quedará el más importante... su ombligo. Un libro para contar, y para cantar"--Amazon.es
520

.

‡a

Pete the cat loves the buttons on his shirt so much that he makes up a song about them, and even as the buttons pop off, one by one, he still finds a reason to sing.
520

.

‡a

"Un exitazo de Pete para cantar y contar"--Back cover.
586

.

‡a

Premio Theodor Seuss Geisel
546

.

‡a

In Spanish and English.
650
0

.

‡a

Animals

‡v

Juvenile fiction.

‡0

(SAGE)1506586
650
0

.

‡a

Happiness

‡v

Juvenile fiction.
650
0

.

‡a

Concepts

‡v

Juvenile fiction.
650
0

.

‡a

Clothing and dress

‡v

Juvenile fiction.
650
0

.

‡a

Cats

‡v

Juvenile fiction.

‡0

(SAGE)1513032
650
0

.

‡a

Buttons

‡v

Juvenile fiction.
650
0

.

‡a

Singing

‡v

Juvenile fiction.
650
0

.

‡a

Counting

‡v

Juvenile fiction.
650
1

.

‡a

Spanish language materials.

‡0

(SAGE)2104356
650
7

.

‡a

Animales

‡v

Novela juvenil.

‡2

bidex
650
7

.

‡a

Felicidad

‡v

Novela juvenil.

‡2

bidex
650
7

.

‡a

Prendas de vestir

‡v

Novela juvenil.

‡2

bidex
650
7

.

‡a

Gatos

‡v

Novela juvenil.

‡2

bidex
650
7

.

‡a

Contar (Enumerar)

‡v

Novela juvenil.

‡2

bidex
650
7

.

‡a

Canto

‡v

Novela juvenil.

‡2

bidex
650
7

.

‡a

Conceptos

‡v

Novela juvenil.

‡2

embne
650
7

.

‡a

Botones

‡v

Novela juvenil.

‡2

qlsp
655
0

.

‡a

Bilingual books.
655
7

.

‡a

Libros de laminas.

‡2

bidex
655
7

.

‡a

Picture books.

‡2

lcgft

‡0

(SAGE)1429746
655
7

.

‡a

Fiction.

‡2

lcgft

‡0

(SAGE)1430163
700
1

.

‡a

Litwin, Eric,

‡e

author.

‡0

(SAGE)1587955
830
0

.

‡a

Pete the cat.

‡l

Spanish.

‡0

(SAGE)2078736
830
0

.

‡a

Colección gatos.

‡0

(SAGE)2071501
902

.

‡a

MARCIVE 092020
994

.

‡a

C0

‡b

OR4
999

.

‡e

Book
905

.

‡u

admin
901

.

‡a

on1106558980

‡b

OCoLC

‡c

2218188

‡t

biblio

‡s

oclc