---
Zombilina baila el cascanueces / texto: Kristyn Crow ; illustraciones: Molly Idle, galardonada con la medalla Caldecott de honor ; [traducción: David Aliaga]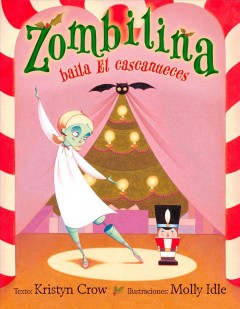 Available copies
1 of 1 copy available at Sage Library System. (Show)
1 of 1 copy available at Hood River County Library District.
Current holds
0 current holds with 1 total copy.
Summary:
"¡Os deseo a todos una feliz Navidad y una noche espeluznante!"--Back cover.
Location
Call Number / Copy Notes
Barcode
Shelving Location
Circulation Modifier
Age Hold Protection
Active/Create Date
Status
Due Date

Hood River County Library

J SP PIC CRO

(Text)
33892100684480

Niños Español Libros Illustrados

Book
None
07/21/2020
Available
-
Record details
ISBN:

9788491452768

ISBN:

8491452761

Physical Description:

1 volume (unpaged) : color illustrations ; 29 cm

Edition:

1a edición.

Publisher:

Barcelona :

Picarona,

2019.

Copyright:

©2019
Content descriptions
General Note:

Translation of: Zombelina dances the Nutcracker.

Summary, etc.:

"¡Os deseo a todos una feliz Navidad y una noche espeluznante!"--Back cover.

"A Zombilina le encanta el ballet. Hace las delicias de sus fans con su pas de bourrée y los emociona con la magia de cada jeté. Pero lo mejor de todo es que ha hecho nuevos amigos a los que también les encanta la danza. Cuando se convoca una audición para representar El cascanueces, Zombilina sabe que tiene el talento necesario para conseguir el papel con el que siempre ha soñado. Pero en la noche del gran estreno, el Abuelo Fantasma tiene otros planes para su teatro. ¿Lograrán Zombilina y sus amigos sacar la función adelante? Cuando los amigos trabajan juntos, íson tan buenos que asusta!"--Publisher's description.

Zombelina and Lizzie are dancing in "The Nutcracker," but when Grandpa Phantom has other plans for his opera house on the night of their performance, the friends must work together to save the show.

Language Note:

En español= In Spanish.
Search for related items by subject
LDR
03247cam a2200637Ii 4500
001
2218198
003
SAGE
005
20200709190234.0
008
191226t20192019sp a j 000 1 spa d
020

.

‡a

9788491452768

‡q

(hardcover)
020

.

‡a

8491452761
035

.

‡a

(OCoLC)1135667189
049

.

‡a

OR4A
040

.

‡a

SDG

‡b

eng

‡e

rda

‡c

SDG

‡d

OCLCO

‡d

OCLCF

‡d

DUNPL

‡d

JQW

‡d

DPL

‡d

SAP
041
1

.

‡a

spa

‡h

eng
050
1
4

.

‡a

PZ73

‡b

.C767 2019
082
0
4

.

‡a

[E]

‡2

23
100
1

.

‡a

Crow, Kristyn,

‡e

author.

‡0

(SAGE)1583734
240
1
0

.

‡a

Zombelina dances the Nutcracker.

‡l

Spanish
245
1
0

.

‡a

Zombilina baila el cascanueces /

‡c

texto: Kristyn Crow ; illustraciones: Molly Idle, galardonada con la medalla Caldecott de honor ; [traducción: David Aliaga]
250

.

‡a

1a edición.
264
1

.

‡a

Barcelona :

‡b

Picarona,

‡c

2019.
264
4

.

‡c

©2019
300

.

‡a

1 volume (unpaged) :

‡b

color illustrations ;

‡c

29 cm
336

.

‡a

text

‡b

txt

‡2

rdacontent
336

.

‡a

still image

‡b

sti

‡2

rdacontent
337

.

‡a

unmediated

‡b

n

‡2

rdamedia
338

.

‡a

volume

‡b

nc

‡2

rdacarrier
385

.

‡n

age

‡a

Children

‡2

lcdgt
500

.

‡a

Translation of: Zombelina dances the Nutcracker.
520

.

‡a

"¡Os deseo a todos una feliz Navidad y una noche espeluznante!"--Back cover.
520

.

‡a

"A Zombilina le encanta el ballet. Hace las delicias de sus fans con su pas de bourrée y los emociona con la magia de cada jeté. Pero lo mejor de todo es que ha hecho nuevos amigos a los que también les encanta la danza. Cuando se convoca una audición para representar El cascanueces, Zombilina sabe que tiene el talento necesario para conseguir el papel con el que siempre ha soñado. Pero en la noche del gran estreno, el Abuelo Fantasma tiene otros planes para su teatro. ¿Lograrán Zombilina y sus amigos sacar la función adelante? Cuando los amigos trabajan juntos, íson tan buenos que asusta!"--Publisher's description.
520

.

‡a

Zombelina and Lizzie are dancing in "The Nutcracker," but when Grandpa Phantom has other plans for his opera house on the night of their performance, the friends must work together to save the show.
546

.

‡a

En español= In Spanish.
650
0

.

‡a

Zombies

‡v

Juvenile fiction.
650
0

.

‡a

Ballet dancing

‡v

Juvenile fiction.
650
0

.

‡a

Best friends

‡v

Juvenile fiction.

‡0

(SAGE)1529412
655
7

.

‡a

Stories in rhyme.

‡2

lcgft

‡0

(SAGE)1429478
650
1

.

‡a

Zombies

‡v

Fiction.

‡0

(SAGE)1545828
650
1

.

‡a

Ballet dancing

‡v

Fiction.
650
1

.

‡a

Best friends

‡v

Fiction.

‡0

(SAGE)1524377
650
1

.

‡a

Spanish language materials.

‡0

(SAGE)2104356
650
7

.

‡a

Zombis

‡v

Novela juvenil.

‡2

local
650
7

.

‡a

Ballet (Danza)

‡v

Novela juvenil.

‡2

bidex
650
7

.

‡a

Amistad

‡v

Novela juvenil.

‡2

bidex
655
7

.

‡a

Cuentos en ritmo.

‡2

bidex
655
1

.

‡a

Spanish language materials.
655
7

.

‡a

Picture books.

‡2

lcgft

‡0

(SAGE)1429746
655
7

.

‡a

Libros de laminas.

‡2

bidex
655
7

.

‡a

Fiction.

‡2

lcgft

‡0

(SAGE)1430163
700
1

.

‡a

Idle, Molly Schaar,

‡e

illustrator.

‡0

(SAGE)1990954
700
1

.

‡a

Aliaga Muñoz, David,

‡e

translator.

‡0

(SAGE)2109977
902

.

‡a

MARCIVE 092020
994

.

‡a

C0

‡b

OR4
999

.

‡e

Book
905

.

‡u

admin
901

.

‡a

on1135667189

‡b

OCoLC

‡c

2218198

‡t

biblio

‡s

oclc