---
Fallout : nuclear bribes, Russian spies, and the Washington lies that enriched the Clinton and Biden dynasties / John Solomon, Seamus Bruner.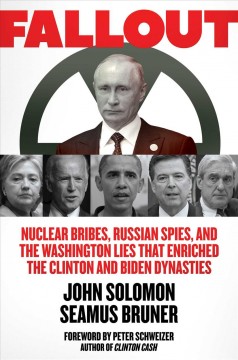 Available copies
1 of 1 copy available at Sage Library System. (Show)
1 of 1 copy available at Hood River County Library District.
Current holds
0 current holds with 1 total copy.
Summary:
"In 2015, a major story broke exposing Hillary Clinton's role in approving the sale of American uranium assets to the Russian state nuclear agency, Rosatom. Not only did the sale of Uranium One put 20 percent of America's domestic uranium supply under the control of Vladimir Putin, there was also evidence that the Clintons themselves had hugely profited from the deal. When presidential candidate Donald Trump made Uranium One the centerpiece of his "Crooked Hillary" attacks, the Clinton team feared its potential to damage Hillary's campaign. Others in the Obama-Biden camp worried that if elected, Trump would expose their role in selling out America's security to Putin. Their desperate need to neutralize the issue led them to launch an unprecedented investigation into the Trump campaign's purported ties to Russia. The infamous Steele dossier, produced by Clinton-connected Fusion GPS, sparked an investigation under FBI Director James Comey. Instead of ending after the election, the investigation grew bigger, eventually leading to Comey's firing and the appointment of Special Counsel Robert Mueller. When Mueller failed to find grounds for impeachment, Democrats seized on an ambiguous phone call with the Ukrainian president as a pretext to remove Trump from office. This gambit blew up in their faces when it exposed the secrets that Democrats tried hard to keep buried."-- Dust jacket.
Location
Call Number / Copy Notes
Barcode
Shelving Location
Circulation Modifier
Age Hold Protection
Active/Create Date
Status
Due Date

Hood River County Library

320.973 SOL 2020

(Text)
33892100705053

Adult New Books

Book
None
09/22/2020
Available
-
Record details
ISBN:

1642935719

ISBN:

9781642935714

ISBN:

9781642935714

Physical Description:

xiv, 338 pages ; 24 cm

Publisher:

New York :

Bombardier Books,

[2020]

Copyright:

©2020
Content descriptions
| | |
| --- | --- |
| General Note: | "A Bombardier Books book"--Title page verso. |
| Bibliography, etc. Note: | Includes bibliographical references (pages 218-328) and index. |
| Formatted Contents Note: | Foreword -- Chapter 1: Putin's nuclear conquest: the uncanny origins of Trump's Impeachment -- Chapter 2: Putin and the oligarchs: how Putin used the Soviet playbook and weaponized energy deals -- Chapter 3: Putin's coldest war: the strategic quest for global nuclear dominance -- Chapter 4: Obama's nuclear cronies: how a young anti-nuclear activist grew up to become a pro-nuclear president -- Chapter 5: Clinton cash (Part II): From Kazakhstan to Russia, with love and money -- Chapter 6: Putin and the pastor: a nuclear bribery plot exposed -- Chapter 7: The Gatekeepers of CFIUS: how Clinton turned a national security review into a tollbooth (and how Obama allowed it) -- Chapter 8: Reset cracks and Skolkovo hacks: the Russian-Silicon Valley tech transfer -- Chapter 9: The Ukraine boomerang: Obama's Russia failures unleash new chaos and cronyism in Ukraine -- Chapter 10: Uranium one, spygate, and impeachment: what they portend for the future -- Endnotes -- Acknowledgments |
| Summary, etc.: | "In 2015, a major story broke exposing Hillary Clinton's role in approving the sale of American uranium assets to the Russian state nuclear agency, Rosatom. Not only did the sale of Uranium One put 20 percent of America's domestic uranium supply under the control of Vladimir Putin, there was also evidence that the Clintons themselves had hugely profited from the deal. When presidential candidate Donald Trump made Uranium One the centerpiece of his "Crooked Hillary" attacks, the Clinton team feared its potential to damage Hillary's campaign. Others in the Obama-Biden camp worried that if elected, Trump would expose their role in selling out America's security to Putin. Their desperate need to neutralize the issue led them to launch an unprecedented investigation into the Trump campaign's purported ties to Russia. The infamous Steele dossier, produced by Clinton-connected Fusion GPS, sparked an investigation under FBI Director James Comey. Instead of ending after the election, the investigation grew bigger, eventually leading to Comey's firing and the appointment of Special Counsel Robert Mueller. When Mueller failed to find grounds for impeachment, Democrats seized on an ambiguous phone call with the Ukrainian president as a pretext to remove Trump from office. This gambit blew up in their faces when it exposed the secrets that Democrats tried hard to keep buried."-- Dust jacket. |
Search for related items by subject