---
The coast-to-coast murders [sound recording] / James Patterson, with J. D. Barker ; read by Jason Culp, Tristan Morris, and Renata Friedman.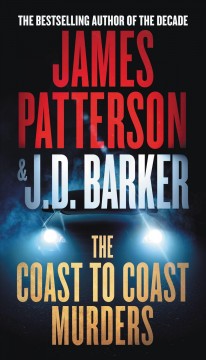 Available copies
4 of 6 copies available at Sage Library System.
0 of 1 copy available at Hood River County Library District. (Show)
Current holds
0 current holds with 6 total copies.
Summary:
A baffling string of murders throughout the country leads Detective Garrett Dobbs and FBI Agent Jessica Gimble to the family of two Ivy League intellectuals who raised their adopted children in a traumatizing experimental environment.
View other formats and editions
Record details
ISBN:

9781549126949

ISBN:

1549126946

Physical Description:

12 audio discs (approximately 14 hr., 30 min.) : CD audio, digtial ; 4 3/4 in.

Edition:

Unabridged.

Publisher:

New York, NY:

Hachette Audio,

2020.

Copyright:

©℗2020
Content descriptions
| | |
| --- | --- |
| General Note: | "A novel of psychological suspense" -- from container |
| Participant or Performer Note: | Read by Jason Culp, Renata Friedman, Tristan Morris. |
| Summary, etc.: | A baffling string of murders throughout the country leads Detective Garrett Dobbs and FBI Agent Jessica Gimble to the family of two Ivy League intellectuals who raised their adopted children in a traumatizing experimental environment. |
| System Details Note: | CD audio. |
Search for related items by subject
LDR
03247cim a2200565 i 4500
001
2253007
003
SAGE
005
20210430183428.0
007
sd fmngnnmmned
008
200728t20202020nyunnnne f n eng d
020

.

‡a

9781549126949
020

.

‡a

1549126946
024
1

.

‡a

9781549126949
028
4
2

.

‡a

12742364
035

.

‡a

(OCoLC)1181845626
040

.

‡a

TOH

‡b

eng

‡e

rda

‡c

TOH

‡d

OCLCQ

‡d

TEF

‡d

OCLCF

‡d

IG$

‡d

WAC
050
4

.

‡a

PS3566.A822

‡b

C63 2020ab
082
0
4

.

‡a

813/.54

‡2

23
100
1

.

‡a

Patterson, James,

‡d

1947-

‡e

author.
245
1
4

.

‡a

The coast-to-coast murders

‡h

[sound recording] /

‡c

James Patterson, with J. D. Barker ; read by Jason Culp, Tristan Morris, and Renata Friedman.
250

.

‡a

Unabridged.
264
1

.

‡a

New York, NY:

‡b

Hachette Audio,

‡c

2020.
264
4

.

‡c

©℗2020
300

.

‡a

12 audio discs (approximately 14 hr., 30 min.) :

‡b

CD audio, digtial ;

‡c

4 3/4 in.
306

.

‡a

141400.
336

.

‡a

spoken word

‡b

spw

‡2

rdacontent
337

.

‡a

audio

‡b

s

‡2

rdamedia
338

.

‡a

audio disc

‡b

sd

‡2

rdacarrier
344

.

‡a

digital

‡2

rdatr
344

.

‡b

optical

‡2

rdarm
347

.

‡a

audio file

‡2

rdaft
347

.

‡b

CD audio.
340

.

‡b

4 3/4 in.
511
0

.

‡a

Read by Jason Culp, Renata Friedman, Tristan Morris.
538

.

‡a

CD audio.
500

.

‡a

"A novel of psychological suspense" -- from container
520

.

‡a

A baffling string of murders throughout the country leads Detective Garrett Dobbs and FBI Agent Jessica Gimble to the family of two Ivy League intellectuals who raised their adopted children in a traumatizing experimental environment.
610
1
0

.

‡a

United States.

‡b

Federal Bureau of Investigation

‡v

Fiction.
650
0

.

‡a

Brothers and sisters

‡v

Fiction.
650
0

.

‡a

Serial murderers

‡v

Fiction.
655
7

.

‡a

Audiobooks.

‡2

lcgft
655
7

.

‡a

Detective and mystery fiction.

‡2

lcgft
655
7

.

‡a

Psychological fiction.

‡2

lcgft
700
1

.

‡a

Barker, J. D.

‡q

(Jonathan Dylan),

‡d

1971-

‡e

author.
700
1

.

‡a

Culp, Jason,

‡e

narrator.
700
1

.

‡a

Friedman, Renata,

‡e

narrator.
700
1

.

‡a

Morris, Tristan,

‡e

narrator.
856
4

.

‡3

View cover art

‡u

http://midwesttapes.com/images/movies/000/000/000/012/742/000000000012742364.jpg
902

.

‡a

MARCIVE 112020
999

.

‡e

Audiobook CD
901

.

‡a

1181845626

‡b

OCoLC

‡c

2253007

‡t

biblio