---

Loretta Little looks back : three voices go tell it : a monologue novel / by Andrea Davis Pinkney ; illustrations by Brian Pinkney.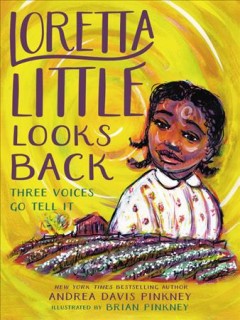 Available copies
1 of 2 copies available at Sage Library System. (Show)
0 of 1 copy available at Hood River County Library District.
Current holds
0 current holds with 2 total copies.
Summary:
Loretta, Roly, and Aggie B. Little relate their Mississippi family's struggles and triumphs from 1927 to 1968 while struggling as sharecroppers, living under Jim Crow, and fighting for Civil Rights.
Location
Call Number / Copy Notes
Barcode
Shelving Location
Circulation Modifier
Age Hold Protection
Active/Create Date
Status
Due Date

Hood River County Library

J FIC PINKNEY

(Text)
33892100706143

Children's New Books

Book
None
10/20/2020
Checked out
03/12/2021
Record details
ISBN:

9780316536776

ISBN:

0316536776

Physical Description:

269 pages : illustrations ; 22 cm

Edition:

First edition.

Publisher:

New York :

Little, Brown and Company,

2020.
Content descriptions
| | |
| --- | --- |
| Summary, etc.: | Loretta, Roly, and Aggie B. Little relate their Mississippi family's struggles and triumphs from 1927 to 1968 while struggling as sharecroppers, living under Jim Crow, and fighting for Civil Rights. |
| Target Audience Note: | Ages 8-12. Little, Brown and Company. |
Search for related items by subject
LDR
02016cam a2200505Ki 4500
001
2253234
003
SAGE
005
20201008193159.0
008
200221s2020 nyua c b 000 1 eng
010

.

‡a

2020005755
020

.

‡a

9780316536776

‡q

(hardcover)
020

.

‡a

0316536776

‡q

(hardcover)
035

.

‡a

(OCoLC)1141967543
042

.

‡a

pcc

‡a

lcac
049

.

‡a

OR4A
040

.

‡a

DLC

‡b

eng

‡e

rda

‡c

DLC

‡d

MJ8

‡d

OCLCO

‡d

OJ4

‡d

UAP

‡d

ILC

‡d

OCLCF
050
0
0

.

‡a

PZ7.P6333

‡b

Lor 2020
082
0
0

.

‡a

[Fic]

‡2

23
100
1

.

‡a

Pinkney, Andrea Davis,

‡e

author.
245
1
0

.

‡a

Loretta Little looks back :

‡b

three voices go tell it : a monologue novel /

‡c

by Andrea Davis Pinkney ; illustrations by Brian Pinkney.
250

.

‡a

First edition.
264
1

.

‡a

New York :

‡b

Little, Brown and Company,

‡c

2020.
300

.

‡a

269 pages :

‡b

illustrations ;

‡c

22 cm
336

.

‡a

text

‡b

txt

‡2

rdacontent
337

.

‡a

unmediated

‡b

n

‡2

rdamedia
338

.

‡a

volume

‡b

nc

‡2

rdacarrier
385

.

‡n

age

‡a

Children

‡2

lcdgt
521

.

‡a

Ages 8-12.

‡b

Little, Brown and Company.
520

.

‡a

Loretta, Roly, and Aggie B. Little relate their Mississippi family's struggles and triumphs from 1927 to 1968 while struggling as sharecroppers, living under Jim Crow, and fighting for Civil Rights.
650
0

.

‡a

Families

‡z

Mississippi

‡v

Juvenile fiction.
650
0

.

‡a

African Americans

‡z

Mississippi

‡v

Juvenile fiction.
650
0

.

‡a

Sharecroppers

‡v

Juvenile fiction.
650
0

.

‡a

Civil rights movements

‡v

Juvenile fiction.
651
0

.

‡a

Mississippi

‡x

History

‡y

20th century

‡v

Juvenile fiction.
650
1

.

‡a

Family life

‡z

Mississippi

‡v

Fiction.
650
1

.

‡a

African Americans

‡z

Mississippi

‡v

Fiction.
650
1

.

‡a

Sharecroppers

‡v

Fiction.
650
1

.

‡a

Civil rights movements

‡v

Fiction.
651
1

.

‡a

Mississippi

‡x

History

‡y

20th century

‡v

Fiction.
655
7

.

‡a

Historical fiction.

‡2

lcgft
700
1

.

‡a

Pinkney, J. Brian,

‡e

author.
902

.

‡a

MARCIVE 112020
994

.

‡a

C0

‡b

OR4
999

.

‡e

Book
905

.

‡u

admin
901

.

‡a

on1141967543

‡b

OCoLC

‡c

2253234

‡t

biblio

‡s

oclc