---
The big book of cidermaking : expert techniques for fermenting and flavoring your favorite hard cider / Christopher Shockey and Kirsten Shockey ; photography by Carmen Troesser.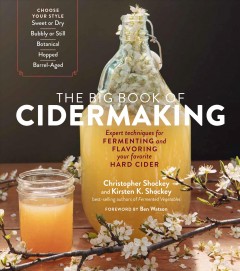 Available copies
1 of 1 copy available at Sage Library System. (Show)
1 of 1 copy available at Hood River County Library District.
Current holds
0 current holds with 1 total copy.
Summary:
"With expert advice and clear, step-by-step instructions, The Big Book of Cidermaking equips readers with the skills they need to make the cider they want."
Location
Call Number / Copy Notes
Barcode
Shelving Location
Circulation Modifier
Age Hold Protection
Active/Create Date
Status
Due Date

Hood River County Library

663.63 SCH 2020

(Text)
33892100708719

Adult New Books

Book
None
10/27/2020
Available
-
Record details
ISBN:

9781635861136

ISBN:

1635861136

Physical Description:

334 pages : color illustrations ; 23 cm

Publisher:

North Adams, MA :

Storey Publishing,

2020.
Content descriptions
| | |
| --- | --- |
| Bibliography, etc. Note: | Includes bibliographical references and index. |
| Summary, etc.: | "With expert advice and clear, step-by-step instructions, The Big Book of Cidermaking equips readers with the skills they need to make the cider they want." -- Provided by publisher. |
Search for related items by subject
LDR
01850cam a2200469Ki 4500
001
2253619
003
SAGE
005
20201015205814.0
008
200130s2020 maua b 001 0 eng
010

.

‡a

2020004829
015

.

‡a

GBC047370

‡2

bnb
016
7

.

‡a

019758043

‡2

Uk
020

.

‡a

9781635861136

‡q

paperback
020

.

‡a

1635861136

‡q

paperback
020

.

‡z

9781635861143

‡q

ebook
035

.

‡a

(OCoLC)1139029798
042

.

‡a

pcc
049

.

‡a

OR4A
040

.

‡a

DLC

‡b

eng

‡e

rda

‡c

DLC

‡d

OCLCO

‡d

BDX

‡d

OCLCF

‡d

UKMGB

‡d

TOH

‡d

SINLB

‡d

WC4
050
0
0

.

‡a

TP563

‡b

.S56 2020
082
0
0

.

‡a

663/.63

‡2

23
100
1

.

‡a

Shockey, Christopher,

‡e

author.
245
1
4

.

‡a

The big book of cidermaking :

‡b

expert techniques for fermenting and flavoring your favorite hard cider /

‡c

Christopher Shockey and Kirsten Shockey ; photography by Carmen Troesser.
263

.

‡a

2006
264
1

.

‡a

North Adams, MA :

‡b

Storey Publishing,

‡c

2020.
300

.

‡a

334 pages :

‡b

color illustrations ;

‡c

23 cm
336

.

‡a

text

‡b

txt

‡2

rdacontent
337

.

‡a

unmediated

‡b

n

‡2

rdamedia
338

.

‡a

volume

‡b

nc

‡2

rdacarrier
504

.

‡a

Includes bibliographical references and index.
520

.

‡a

"With expert advice and clear, step-by-step instructions, The Big Book of Cidermaking equips readers with the skills they need to make the cider they want."

‡c

-- Provided by publisher.
650
0

.

‡a

Cider.
650
0

.

‡a

Apples.
650
0

.

‡a

Fermentation.
650
7

.

‡a

SCIENCE / Chemistry / Industrial & Technical.

‡2

bisacsh
655
7

.

‡a

Cookbooks.

‡2

lcgft
700
1

.

‡a

Shockey, Kirsten,

‡e

author.
776
0
8

.

‡i

Online version:

‡a

Shockey, Christopher,

‡t

The big book of cidermaking

‡d

North Adams : Storey Publishing, MA, 2020.

‡z

9781635861143

‡w

(DLC) 2020004830
902

.

‡a

MARCIVE 112020
994

.

‡a

C0

‡b

OR4
999

.

‡e

Book
905

.

‡u

admin
901

.

‡a

on1139029798

‡b

OCoLC

‡c

2253619

‡t

biblio

‡s

oclc