---
Becoming Muhammad Ali : a novel / James Patterson, Kwame Alexander ; illustrated by Dawud Anyabwile.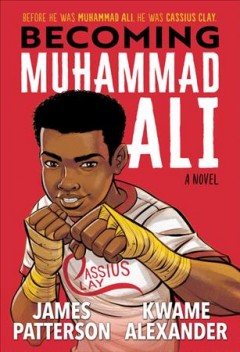 Available copies
8 of 8 copies available at Sage Library System.
1 of 1 copy available at Hood River County Library District. (Show)
Current holds
0 current holds with 8 total copies.
Summary:
A biographical novel tells the story of Cassius Clay, the determined boy who would one day become Muhammad Ali, one of the greatest boxers of all time.
View other formats and editions
Record details
ISBN:

9780316498166

ISBN:

0316498165

(hbk.)
Physical Description:

310 pages : illustrations ; 21 cm

Edition:

First edition.

Publisher:

New York :

Jimmy Patterson Books, Little, Brown and Company,

2020.
Content descriptions
| | |
| --- | --- |
| Bibliography, etc. Note: | Includes bibliographical references (pages 307-308). |
| Summary, etc.: | A biographical novel tells the story of Cassius Clay, the determined boy who would one day become Muhammad Ali, one of the greatest boxers of all time. |
Search for related items by subject
LDR
01541cam a2200385 i 4500
001
2260615
003
SAGE
005
20210106224748.0
008
200924s2020 nyua j b 000 1 eng d
020

.

‡a

9780316498166

‡q

(hardcover)
020

.

‡a

0316498165 (hbk.)
035

.

‡a

(OCoLC)1197638874
040

.

‡a

NjBwBT

‡b

eng

‡e

rda

‡c

FMG

‡d

FMG

‡d

OCLCO

‡d

OQX

‡d

wjopl
100
1

.

‡a

Patterson, James,

‡d

1947-

‡e

author.
245
1
0

.

‡a

Becoming Muhammad Ali :

‡b

a novel /

‡c

James Patterson, Kwame Alexander ; illustrated by Dawud Anyabwile.
250

.

‡a

First edition.
264
1

.

‡a

New York :

‡b

Jimmy Patterson Books, Little, Brown and Company,

‡c

2020.
300

.

‡a

310 pages :

‡b

illustrations ;

‡c

21 cm
336

.

‡a

text

‡b

txt

‡2

rdacontent
336

.

‡a

still image

‡b

sti

‡2

rdacontent
337

.

‡a

unmediated

‡b

n

‡2

rdamedia
338

.

‡a

volume

‡b

nc

‡2

rdacarrier
385

.

‡n

age

‡a

Children

‡2

lcdgt
504

.

‡a

Includes bibliographical references (pages 307-308).
520

.

‡a

A biographical novel tells the story of Cassius Clay, the determined boy who would one day become Muhammad Ali, one of the greatest boxers of all time.
600
1
0

.

‡a

Ali, Muhammad,

‡d

1942-2016

‡v

Juvenile fiction.
650
0

.

‡a

Boxers (Sports)

‡v

Juvenile fiction.
650
0

.

‡a

African Americans

‡v

Juvenile fiction.
655
7

.

‡a

Biographical fiction.

‡2

lcgft
655
7

.

‡a

Historical fiction.

‡2

lcgft
700
1

.

‡a

Alexander, Kwame,

‡e

author.
700
1

.

‡a

Anyabwile, Dawud,

‡d

1965-

‡e

illustrator.
902

.

‡a

MARCIVE 122020
999

.

‡e

Book
901

.

‡a

on1197638874

‡b

OCoLC

‡c

2260615

‡t

biblio