---

BroBots and the shoujo shenanigans! / written by J. Torres ; art, lettering, & design by Sean Dove ; edited by Robin Herrera.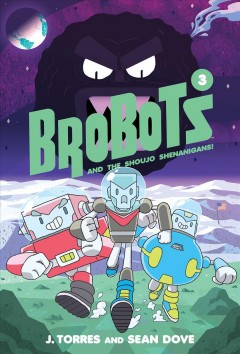 Available copies
1 of 1 copy available at Sage Library System.
1 of 1 copy available at Hood River County Library District. (Show)
Current holds
0 current holds with 1 total copy.
Summary:
"A trio of robot bros reel in a big challenge and must band together to battle a giant monster in this ... take on classic kaiju-mech and fairytale stories"--Provided by publisher.
Location
Call Number / Copy Notes
Barcode
Shelving Location
Circulation Modifier
Age Hold Protection
Active/Create Date
Status
Due Date

Hood River County Library

J GRAPHIC FIC TORRES V.3

(Text)
33892100714915

Children's Graphic Novels & Comics

Book
None
12/12/2020
Available
-
Record details
ISBN:

9781620105214

ISBN:

1620105217

Physical Description:

39 pages : color illustrations ; 24 cm

Edition:

First edition.

Publisher:

Portland, OR :

Oni Press, Inc.,

2018.
Content descriptions
| | |
| --- | --- |
| Summary, etc.: | "A trio of robot bros reel in a big challenge and must band together to battle a giant monster in this ... take on classic kaiju-mech and fairytale stories"--Provided by publisher. |
Search for related items by subject
LDR
02197cam a2200577Ii 4500
001
2267341
003
SAGE
005
20201210170544.0
006
knnn r kn
008
180808s2018 orua b 6 000 1 eng d
010

.

‡a

2017961743
019

.

‡a

1048400980
020

.

‡a

9781620105214

‡q

(hbk.)
020

.

‡a

1620105217

‡q

(hbk.)
035

.

‡a

(OCoLC)1048453456

‡z

(OCoLC)1048400980
049

.

‡a

OR4A
040

.

‡a

CGP

‡b

eng

‡e

rda

‡c

CGP

‡d

UOK

‡d

NYP

‡d

FMG

‡d

OCLCF

‡d

JST

‡d

OQX

‡d

W5F

‡d

OCLCO

‡d

OCLCQ

‡d

OCLCO

‡d

OQX

‡d

GO4
050
4

.

‡a

PZ7.7.T67

‡b

Brq 2018
082
0
4

.

‡a

741.5/971

‡2

23
100
1

.

‡a

Torres, J.,

‡d

1969-

‡e

author.
245
1
0

.

‡a

BroBots and the shoujo shenanigans! /

‡c

written by J. Torres ; art, lettering, & design by Sean Dove ; edited by Robin Herrera.
246
3

.

‡a

Bro-Bots.

‡n

3,

‡p

And the shoujo shenanigans!
246
3

.

‡a

Bro-Bots and the shoujo shenanigans!
246
3

.

‡i

At head of title:

‡a

Oni presents Brobots and the shoujo shenanigans
250

.

‡a

First edition.
264
1

.

‡a

Portland, OR :

‡b

Oni Press, Inc.,

‡c

2018.
300

.

‡a

39 pages :

‡b

color illustrations ;

‡c

24 cm
336

.

‡a

text

‡b

txt

‡2

rdacontent
336

.

‡a

still image

‡b

sti

‡2

rdacontent
337

.

‡a

unmediated

‡b

n

‡2

rdamedia
338

.

‡a

volume

‡b

nc

‡2

rdacarrier
520

.

‡a

"A trio of robot bros reel in a big challenge and must band together to battle a giant monster in this ... take on classic kaiju-mech and fairytale stories"--Provided by publisher.
650
0

.

‡a

Robots

‡v

Comic books, strips, etc.
650
0

.

‡a

Brothers

‡v

Comic books, strips, etc.
655
7

.

‡a

Superhero comics.

‡2

lcgft
650
0

.

‡a

Monsters

‡v

Comic books, strips, etc.
650
1

.

‡a

Robots

‡v

Fiction.
650
1

.

‡a

Brothers

‡v

Fiction.
650
1

.

‡a

Superheroes

‡v

Fiction.
650
1

.

‡a

Monsters

‡v

Fiction.
650
1

.

‡a

Cartoons and comics.
655
7

.

‡a

Science fiction comics.

‡2

lcgft
655
7

.

‡a

Graphic novels.

‡2

lcgft
655
7

.

‡a

Comics (Graphic works)

‡2

lcgft
655
7

.

‡a

Fiction.

‡2

lcgft
700
1

.

‡a

Dove, Sean K.,

‡e

artist,

‡e

letterer.
700
1

.

‡a

Herrera, Robin,

‡e

editor.
902

.

‡a

MARCIVE 012021
994

.

‡a

C0

‡b

OR4
999

.

‡e

Book
905

.

‡u

admin
901

.

‡a

on1048453456

‡b

OCoLC

‡c

2267341

‡t

biblio

‡s

oclc