---
Yoga where you are : customize your practice for your body + your life / Dianne Bondy + Kat Heagberg ; foreword by Jes Baker ; photos by Andrea Killam.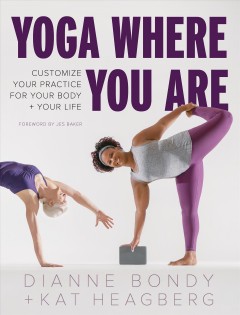 Available copies
1 of 1 copy available at Sage Library System. (Show)
1 of 1 copy available at Hood River County Library District.
Current holds
0 current holds with 1 total copy.
Summary:
"Everything you need to build a custom yoga practice that supports YOU, just where you are. This empowering guide celebrates readers of all backgrounds, body sizes, and abilities. It offers poses, variations, sequences, and tools to find freedom in your practice, make it truly your own, and deepen your self-compassion and love."
Location
Call Number / Copy Notes
Barcode
Shelving Location
Circulation Modifier
Age Hold Protection
Active/Create Date
Status
Due Date

Cascade Locks Library

613.7046 BON 2020

(Text)
33892100716944

Adult New Books

Book
None
01/19/2021
Available
-
Record details
ISBN:

9781611807868

ISBN:

1611807867

Physical Description:

xv, 253 pages : color illustrations ; 27 cm

Edition:

First edition.

Publisher:

Boulder, Colorado :

Shambhala,

[2020]
Content descriptions
| | |
| --- | --- |
| Bibliography, etc. Note: | Includes bibliographical references and index. |
| Summary, etc.: | "Everything you need to build a custom yoga practice that supports YOU, just where you are. This empowering guide celebrates readers of all backgrounds, body sizes, and abilities. It offers poses, variations, sequences, and tools to find freedom in your practice, make it truly your own, and deepen your self-compassion and love." -- Provided by publisher. |
Search for related items by subject
LDR
02016cam a2200481Ki 4500
001
2269071
003
SAGE
005
20210106184557.0
008
191209s2020 coua b 001 0 eng
010

.

‡a

2019053634
015

.

‡a

GBC051800

‡2

bnb
016
7

.

‡a

019766322

‡2

Uk
019

.

‡a

1225073658
020

.

‡a

9781611807868

‡q

(trade paperback)
020

.

‡a

1611807867

‡q

(trade paperback)
035

.

‡a

(OCoLC)1131896905

‡z

(OCoLC)1225073658
042

.

‡a

pcc
049

.

‡a

OR4A
040

.

‡a

DLC

‡b

eng

‡e

rda

‡c

DLC

‡d

OCLCO

‡d

OCLCF

‡d

BDX

‡d

YDX

‡d

UKMGB

‡d

TCH

‡d

GO3

‡d

JAS

‡d

SO$
050
0
0

.

‡a

RA781.7

‡b

.B66124 2020
082
0
0

.

‡a

613.7/046

‡2

23
100
1

.

‡a

Bondy, Dianne,

‡e

author.
245
1
0

.

‡a

Yoga where you are :

‡b

customize your practice for your body + your life /

‡c

Dianne Bondy + Kat Heagberg ; foreword by Jes Baker ; photos by Andrea Killam.
250

.

‡a

First edition.
264
1

.

‡a

Boulder, Colorado :

‡b

Shambhala,

‡c

[2020]
300

.

‡a

xv, 253 pages :

‡b

color illustrations ;

‡c

27 cm
336

.

‡a

text

‡b

txt

‡2

rdacontent
337

.

‡a

unmediated

‡b

n

‡2

rdamedia
338

.

‡a

volume

‡b

nc

‡2

rdacarrier
504

.

‡a

Includes bibliographical references and index.
520

.

‡a

"Everything you need to build a custom yoga practice that supports YOU, just where you are. This empowering guide celebrates readers of all backgrounds, body sizes, and abilities. It offers poses, variations, sequences, and tools to find freedom in your practice, make it truly your own, and deepen your self-compassion and love."

‡c

-- Provided by publisher.
650
0

.

‡a

Hatha yoga.
650
0

.

‡a

Yoga.
650
7

.

‡a

HEALTH & FITNESS / Yoga.

‡2

bisacsh
650
7

.

‡a

HEALTH & FITNESS / Healthy Living.

‡2

bisacsh
650
7

.

‡a

HEALTH & FITNESS / Exercise / Stretching.

‡2

bisacsh
700
1

.

‡a

Heagberg, Kat,

‡e

author.
700
1

.

‡a

Baker, Jes,

‡e

writer of foreword.
700
1

.

‡a

Killam, Andrea,

‡e

photographer.
902

.

‡a

MARCIVE 022021
994

.

‡a

C0

‡b

OR4
999

.

‡e

Book
905

.

‡u

admin
901

.

‡a

on1131896905

‡b

OCoLC

‡c

2269071

‡t

biblio

‡s

oclc