---
First friends : the powerful, unsung (and unelected) people who shaped our presidents / by Gary Ginsberg.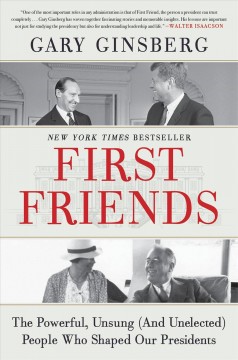 Available copies
3 of 3 copies available at Sage Library System. (Show)
1 of 1 copy available at Hood River County Library District.
Current holds
0 current holds with 3 total copies.
Summary:
"First Friends includes the riveting histories of myriad presidential friendships, among them Abraham Lincoln and Joshua Speed, the man with whom Lincoln once shared a bed and who did more to help him emerge from his crippling depression than anyone else; Harry Truman and Eddie Jacobson, the Kansas City haberdasher who played a pivotal part in America's recognition of the state of Israel in 1948; and Franklin Delano Roosevelt and Daisy Suckley, a distant cousin for whom the president had deep feelings and entrusted with highly classified strategic and diplomatic information that even his cabinet members were not aware of. These and other friendships -- including JFK and David Ormsby-Gore, James Madison and Thomas Jefferson, Richard Nixon and Bebe Rebozo -- populate this fresh and provocative exploration of over a dozen seminal presidential friendships." --Provided by publisher.
Location
Call Number / Copy Notes
Barcode
Shelving Location
Circulation Modifier
Age Hold Protection
Active/Create Date
Status
Due Date

Hood River County Library

302.34 GIN 2021

(Text)
33892100755629

Adult New Books

Book
None
09/20/2021
Available
-
Record details
ISBN:

9781538702925

Physical Description:

xvii, 391 pages : illustrations ; 24 cm

Edition:

First edition.

Publisher:

New York :

Twelve,

2021.
Content descriptions
| | |
| --- | --- |
| Bibliography, etc. Note: | Includes bibliographical references (pages 367-375) and index. |
| Formatted Contents Note: | Thomas Jefferson and James Madison: Founding partners -- Franklin Pierce and Nathaniel Hawthorne: The cost of closeness -- Abraham Lincoln and Joshua Speed: Room over the store -- Woodrow Wilson and Colonel House: The man and the opportunity -- FDR and Daisy Suckley: Alone together -- Harry Truman and Eddie Jacobson: Beshert -- Jack Kennedy and David Ormsby-Gore: A special relationship -- Richard Nixon and Bebe Rebozo: Silent partner -- Bill Clinton and Vernon Jordan: Two brothers of the South. |
| Summary, etc.: | "First Friends includes the riveting histories of myriad presidential friendships, among them Abraham Lincoln and Joshua Speed, the man with whom Lincoln once shared a bed and who did more to help him emerge from his crippling depression than anyone else; Harry Truman and Eddie Jacobson, the Kansas City haberdasher who played a pivotal part in America's recognition of the state of Israel in 1948; and Franklin Delano Roosevelt and Daisy Suckley, a distant cousin for whom the president had deep feelings and entrusted with highly classified strategic and diplomatic information that even his cabinet members were not aware of. These and other friendships -- including JFK and David Ormsby-Gore, James Madison and Thomas Jefferson, Richard Nixon and Bebe Rebozo -- populate this fresh and provocative exploration of over a dozen seminal presidential friendships." --Provided by publisher. |
Search for related items by subject
LDR
03063pam a2200457 i 4500
001
2308470
003
SAGE
005
20210913214507.0
008
210223s2021 nyua b 001 0deng
010

.

‡a

2021006851
020

.

‡a

9781538702925

‡q

(hardback)
020

.

‡z

9781538702949

‡q

(ebook)
035

.

‡a

(DLC) 2021006851
035

.

‡a

(OCoLC)1243011585
042

.

‡a

pcc
043

.

‡a

n-us---
040

.

‡a

DLC

‡b

eng

‡e

rda

‡c

DLC

‡d

TnLvILS

‡d

OXP
082
0
0

.

‡a

302.34

‡2

23
100
1

.

‡a

Ginsberg, Gary

‡q

(Gary L.),

‡d

1962-

‡e

author.
245
1
0

.

‡a

First friends :

‡b

the powerful, unsung (and unelected) people who shaped our presidents /

‡c

by Gary Ginsberg.
250

.

‡a

First edition.
264
1

.

‡a

New York :

‡b

Twelve,

‡c

2021.
300

.

‡a

xvii, 391 pages :

‡b

illustrations ;

‡c

24 cm
336

.

‡a

text

‡b

txt

‡2

rdacontent
336

.

‡a

still image

‡b

sti

‡2

rdacontent
337

.

‡a

unmediated

‡b

n

‡2

rdamedia
338

.

‡a

volume

‡b

nc

‡2

rdacarrier
504

.

‡a

Includes bibliographical references (pages 367-375) and index.
505
0

.

‡a

Thomas Jefferson and James Madison: Founding partners -- Franklin Pierce and Nathaniel Hawthorne: The cost of closeness -- Abraham Lincoln and Joshua Speed: Room over the store -- Woodrow Wilson and Colonel House: The man and the opportunity -- FDR and Daisy Suckley: Alone together -- Harry Truman and Eddie Jacobson: Beshert -- Jack Kennedy and David Ormsby-Gore: A special relationship -- Richard Nixon and Bebe Rebozo: Silent partner -- Bill Clinton and Vernon Jordan: Two brothers of the South.
520

.

‡a

"First Friends includes the riveting histories of myriad presidential friendships, among them Abraham Lincoln and Joshua Speed, the man with whom Lincoln once shared a bed and who did more to help him emerge from his crippling depression than anyone else; Harry Truman and Eddie Jacobson, the Kansas City haberdasher who played a pivotal part in America's recognition of the state of Israel in 1948; and Franklin Delano Roosevelt and Daisy Suckley, a distant cousin for whom the president had deep feelings and entrusted with highly classified strategic and diplomatic information that even his cabinet members were not aware of. These and other friendships -- including JFK and David Ormsby-Gore, James Madison and Thomas Jefferson, Richard Nixon and Bebe Rebozo -- populate this fresh and provocative exploration of over a dozen seminal presidential friendships." --Provided by publisher.
650
0

.

‡a

Friendship.
650
0

.

‡a

Presidents

‡z

United States

‡x

History.
650
0

.

‡a

Male friendship.
650
0

.

‡a

Interracial friendship.
651
0

.

‡a

United States

‡x

Politics and government.
852
4

.

‡b

UN-UPL

‡b

UN-UPL

‡c

Adult Non-Fiction

‡j

302.34 GINSBERG

‡g

Book

‡p

37883000370938

‡s

Available

‡y

$35.00
852
4

.

‡b

BCL

‡b

BCL

‡c

NON-FICTION - NEW

‡j

973.099 .G493f 2021

‡g

Book

‡p

37814003423267

‡s

Available

‡y

$18.00

‡t

1
852
4

.

‡b

HR-HRCL

‡b

HR-CLL

‡c

Adult New Books

‡j

302.34 GIN 2021

‡g

Book

‡p

33892100755629

‡s

On holds shelf

‡y

$30.00
902

.

‡a

MARCIVE 112021
999

.

‡e

Book
905

.

‡u

admin
901

.

‡a

2021006851

‡b

DLC

‡c

2308470

‡t

biblio