---
Valedictorians at the gate : standing out, getting in, and staying sane while applying to college / Becky Munsterer Sabky.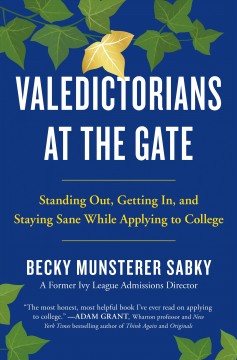 Available copies
0 of 1 copy available at Sage Library System.
0 of 1 copy available at Hood River County Library District. (Show)
Current holds
0 current holds with 1 total copy.
Summary:
Sabky looks beyond the smoke and mirrors of the intimidating admissions gauntlet and places the power firmly where it should be: in the hands of the students themselves. Offering prescriptive, actionable advice for students and their parents, she illuminates the pathway to finding the school that is the ideal match. -- adapted from back cover
Location
Call Number / Copy Notes
Barcode
Shelving Location
Circulation Modifier
Age Hold Protection
Active/Create Date
Status
Due Date

Hood River County Library

378.161 SAB 2021

(Text)
33892100750877

Adult New Books

Book
None
08/30/2021
Checked out
12/14/2021
Record details
ISBN:

9781250619037

ISBN:

1250619033

Physical Description:

xiv, 217 pages ; 25 cm

Edition:

First edition.

Publisher:

New York :

Henry Holt and Company,

2021.
Content descriptions
| | |
| --- | --- |
| Bibliography, etc. Note: | Includes bibliographical references (pages 211-217). |
| Formatted Contents Note: | The big picture -- The college search. First steps ; Creating the right college list ; The campus visit ; Coming to a high school near you -- The application. The school report ; Recommendations ; Extracurriculars ; Testing ; The personal statement ; Supplemental essays ; Submitting the application ; Alumni interviews -- Special considerations. A word on early ; International applicants ; Recruited athletes -- Postdecision. Decision day ; Admitted student events ; Welcome to college ; Best in class. |
| Summary, etc.: | Sabky looks beyond the smoke and mirrors of the intimidating admissions gauntlet and places the power firmly where it should be: in the hands of the students themselves. Offering prescriptive, actionable advice for students and their parents, she illuminates the pathway to finding the school that is the ideal match. -- adapted from back cover |
Search for related items by subject
LDR
02593cam a2200457Ki 4500
001
2309729
003
SAGE
005
20210826133420.0
008
201120s2021 nyu e b 000 0 eng
010

.

‡a

2020047926
019

.

‡a

1262019196
020

.

‡a

9781250619037

‡q

(hardcover)
020

.

‡a

1250619033

‡q

(hardcover)
020

.

‡z

9781250619044

‡q

(ebook)
035

.

‡a

(OCoLC)1191140326

‡z

(OCoLC)1262019196
042

.

‡a

pcc
043

.

‡a

n-us---
049

.

‡a

OR4A
040

.

‡a

DLC

‡b

eng

‡e

rda

‡c

DLC

‡d

OCLCF

‡d

OCLCO

‡d

TOH

‡d

OCLCO

‡d

JAS

‡d

ILC

‡d

FMG

‡d

JTB

‡d

UAP

‡d

ACN
050
0
0

.

‡a

LB2350.5

‡b

.S23 2021
082
0
0

.

‡a

378.1/610973

‡2

23
100
1

.

‡a

Sabky, Rebecca Munsterer,

‡d

1978-

‡e

author.
245
1
0

.

‡a

Valedictorians at the gate :

‡b

standing out, getting in, and staying sane while applying to college /

‡c

Becky Munsterer Sabky.
250

.

‡a

First edition.
264
1

.

‡a

New York :

‡b

Henry Holt and Company,

‡c

2021.
300

.

‡a

xiv, 217 pages ;

‡c

25 cm
336

.

‡a

text

‡b

txt

‡2

rdacontent
337

.

‡a

unmediated

‡b

n

‡2

rdamedia
338

.

‡a

volume

‡b

nc

‡2

rdacarrier
504

.

‡a

Includes bibliographical references (pages 211-217).
505
0

.

‡a

The big picture -- The college search. First steps ; Creating the right college list ; The campus visit ; Coming to a high school near you -- The application. The school report ; Recommendations ; Extracurriculars ; Testing ; The personal statement ; Supplemental essays ; Submitting the application ; Alumni interviews -- Special considerations. A word on early ; International applicants ; Recruited athletes -- Postdecision. Decision day ; Admitted student events ; Welcome to college ; Best in class.
520

.

‡a

Sabky looks beyond the smoke and mirrors of the intimidating admissions gauntlet and places the power firmly where it should be: in the hands of the students themselves. Offering prescriptive, actionable advice for students and their parents, she illuminates the pathway to finding the school that is the ideal match. -- adapted from back cover
650
0

.

‡a

College choice

‡z

United States.
650
0

.

‡a

Universities and colleges

‡z

United States

‡x

Admission.
650
7

.

‡a

EDUCATION / General.

‡2

bisacsh
776
0
8

.

‡i

Online version:

‡a

Sabky, Rebecca Munsterer, 1978-

‡t

Valedictorians at the gate

‡b

First edition.

‡d

New York : Henry Holt and Company, [2021]

‡z

9781250619044

‡w

(DLC) 2020047927
852
4

.

‡b

HR-HRCL

‡b

HR-HRCL

‡c

Adult New Books

‡j

378.161 SAB 2021

‡g

Book

‡p

33892100750877

‡s

Checked out

‡y

$24.99
902

.

‡a

MARCIVE 112021
994

.

‡a

C0

‡b

OR4
999

.

‡e

Book
905

.

‡u

admin
901

.

‡a

on1191140326

‡b

OCoLC

‡c

2309729

‡t

biblio

‡s

oclc