---

Mitch, please! : how Mitch McConnell sold out Kentucky (and America, too) / Matt Jones with Chris Tomlin.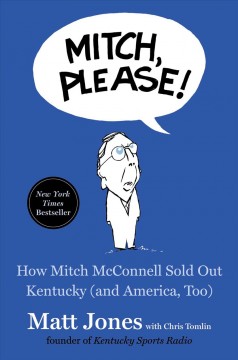 Available copies
1 of 1 copy available at Sage Library System. (Show)
1 of 1 copy available at Hood River County Library District.
Current holds
0 current holds with 1 total copy.
Summary:
"They say all politics is local. In 2020, Mitch McConnell will have served five full terms as a US Senator. Thirty years. The Senate Majority leader's power is as undeniable as it is infuriating, and the people of Kentucky have had enough. Led by Matt Jones, they (and they alone) have the power to oust him from office. How did Jones, a local boy turned attorney turned sports radio host come to shine the brightest light on McConnell's ineptitude? Simple--he knows Kentucky inside and out, and has used the state's love of sports as an entry point for showcasing how McConnell has failed his fellow citizens both economically and socially for three decades. Entertaining, maddening, yet ultimately inspiring, these stories from Kentuckians in each of its 120 counties illustrate the Senate Majority leader's stunning shortcomings. Jones infuses his trademark wit and wisdom throughout, while also offering a beautiful portrait of a state with arguably the most untapped potential in our country. Ultimately, the white-hot hatred for McConnell on the coasts is just white noise. Only the people of Kentucky can remove him from office. Here, Matt Jones demonstrates he has the influence, charisma, and institutional knowledge to lead the charge. He and his fellow Kentuckians have had enough--and they're ready for a fight." -- Amazon.com
Location
Call Number / Copy Notes
Barcode
Shelving Location
Circulation Modifier
Age Hold Protection
Active/Create Date
Status
Due Date

Hood River County Library

328.73 JON 2020

(Text)
33892100694679

Adult New Books

Book
None
07/17/2020
Available
-
Record details
ISBN:

9781982142049

ISBN:

1982142049

ISBN:

1982164166

ISBN:

9781982164164

Physical Description:

500 pages : illustrations ; 24 cm

Edition:

First Simon & Schuster hardcover edition.

Publisher:

New York :

Simon & Schuster,

2020.
Content descriptions
| | |
| --- | --- |
| Bibliography, etc. Note: | Includes bibliographical references (pages 451-477) and index. |
| Formatted Contents Note: | The rise of Mitch -- The western front -- Suburbia -- Coal country -- Mitch's base -- Returning home -- "We never existed" -- Moscow Mitch -- God, guns & babies -- The decision. |
| Summary, etc.: | "They say all politics is local. In 2020, Mitch McConnell will have served five full terms as a US Senator. Thirty years. The Senate Majority leader's power is as undeniable as it is infuriating, and the people of Kentucky have had enough. Led by Matt Jones, they (and they alone) have the power to oust him from office. How did Jones, a local boy turned attorney turned sports radio host come to shine the brightest light on McConnell's ineptitude? Simple--he knows Kentucky inside and out, and has used the state's love of sports as an entry point for showcasing how McConnell has failed his fellow citizens both economically and socially for three decades. Entertaining, maddening, yet ultimately inspiring, these stories from Kentuckians in each of its 120 counties illustrate the Senate Majority leader's stunning shortcomings. Jones infuses his trademark wit and wisdom throughout, while also offering a beautiful portrait of a state with arguably the most untapped potential in our country. Ultimately, the white-hot hatred for McConnell on the coasts is just white noise. Only the people of Kentucky can remove him from office. Here, Matt Jones demonstrates he has the influence, charisma, and institutional knowledge to lead the charge. He and his fellow Kentuckians have had enough--and they're ready for a fight." -- Amazon.com |
Search for related items by subject